What It's Actually Like To Get Vaccinated For COVID-19 In America
In the United States, the actual process of getting a shot has been less glamorous and more difficult than most people may have expected.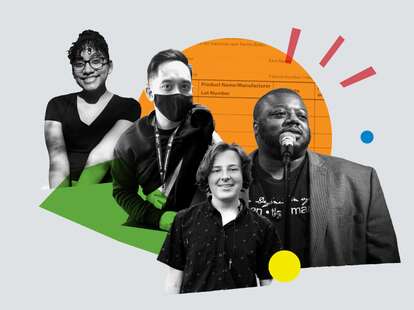 Photos courtesy of subjects / Illustration by Andrea J. Wang
As the United States stands at a crossroads between a once-in-a-century pandemic and a race to get life-saving shots into arms, millions of people in a deeply divided country, for once, want the same thing: respite from the despair, grief and loneliness of being vulnerable to a deadly virus. While the federal approval of at least three vaccines and the election of a president hell-bent on a national recovery plan from COVID-19 are promising at face value, the actual process of getting a shot this winter and spring was less glamorous and more difficult than most people may have expected.
In the U.S., getting a vaccine appointment often involved constantly refreshing websites, following bots on social media, getting frustrated with government mismanagement, and wondering why this wasn't all easier. As with the economic distress of the pandemic, vaccine accessibility has divided people into the haves-and-have-nots, arguably a core tenet of living in America, while organizations and community efforts have stepped up to fill gaps in public knowledge, transportation, and scheduling.
NowThis interviewed a dozen people across the U.S. during March 2021 about their experiences getting themselves, loved ones, and strangers vaccinated— or failing to do so. Below are six of their interviews, which were edited and condensed.
Do you have a story to tell? Fill out this form, and we'll continue adding to this page. And to find COVID-19 vaccination sites near you, visit vaccinefinder.org.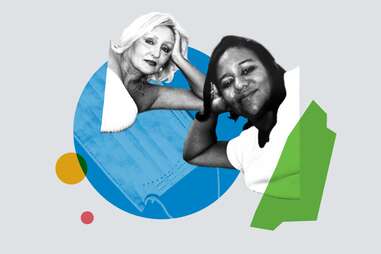 Shani Lee, 46, unemployed, Arizona
Shani Lee came home, after her mother died of COVID-19 in February, to a voicemail that said a vaccine appointment could finally be ready. Lee had spent an inordinate amount of time trying to get her mother Betty, who lived with pre-existing conditions, a shot. But at 73, Betty wasn't old enough to qualify for the two initial groups. "Even though she had lupus, which is an autoimmune disease that attacks the lungs, she was not a candidate for pre-existing conditions. And I said, 'Wow, that's really strange,'" Lee told NowThis. Betty, who had other conditions including a traumatic brain injury, rheumatoid arthritis, and spinal blood clots, eventually qualified when the state expanded the qualifying age range to include people over 65.
From the looks of news broadcasts and statements from elected officials, the state's vaccine rollout looked bright. But Lee spent lots of frustrated waking hours refreshing a website, getting cut off during scheduling, and wondering why a football stadium, open 24/7, couldn't possibly accommodate her mom. "Every time they showed these clinics on the news, even like when the governor went, 'There's no crowds' — It's almost like the mindset, 'Not my problem, good luck. We got it for you, but we're not going to really do anything to try to help you get to it.' That's how it feels," she said.
Lee is an only child, and had been taking care of both of her parents for the last decade. In late January, she had a bad bout with COVID-19 that did not require hospitalization. Her father, Kenneth, was hospitalized with COVID-19 the day after her mother's death. They took all the precautions, Lee said, including masks and social distancing. But she lost her mom, described even in her final hours by medical staff as "feisty," and she can't fully compute how that happened. "We still got the ultimate punishment for doing everything right. It's not fair," Lee said.
More than 500,000 Americans have died of COVID-19 in more than a year; losing someone to the predatory virus while vaccines are becoming attainable is a distinct and fresh trauma. "To see a woman that's that strong-minded get torn down to be made a statistic. It's like it tore everything from her and made her another number in this horrible death toll that we have," Lee said.
Alina

Guzmán

, 20, student, Texas
Alina Guzmán and her immediate family members got her vaccine just before Texas Gov. Greg Abbott (R) lifted the state's mask mandate in March. Guzmán viewed her shot as a degree of protection against political decisions by state leaders, which have led President Biden, elected officials, and public health experts to urgently call for people to stay vigilant, socially distanced, and masked, as cases again spike in the U.S. this spring.
Who were you trying to get signed up, and what have your initial challenges been?
Originally we were prioritizing my mom because she has an immune disease and my dad as well, 'cause he's diabetic. My sister and I both have chronic asthma too, so we're all immune-compromised. And we were all, like, trying to get the vaccine since it came out.
When San Antonio got the doses, the Alamodome opened and they had other areas that you can go in to sign up. But it was so hard because, whenever the website opened it up, it would crash. The phone numbers that you can call, you couldn't get through. So they were filling up. When the H-E-B came through with doses, me and my sister were on our computers and our phones just refreshing, refreshing, and it took us like an hour to get one vaccine. So we signed up for my mom. So we just kept going and going, and eventually we were able to get all of us signed up.
I'm not going to lie, we were all crying. We were like, "We finally got it." Like, it was so hard. We haven't gone out since last March. We've been so stuck at home. If we get sick, we can get sick really bad. So it was a journey to get those sign-ups.
What has that relief felt like?
Oh, good. We're still taking our precautions. We're not going to be going out. We're definitely still wearing our masks, practicing social distancing. Now that we have it, we have a better chance of overcoming COVID if we were to get it. And it's that sense of security that we were wanting for a year.
That's real. I can't think of many comparisons for that.
I've never been so happy to get a shot. Like, I was so excited. I was telling the pharmacist, "I can cry right now," because, like, it's just such a relief.
Anything else that you wanted to add just about your experience navigating this process as one of the growing, but still small, number of Americans who have done it?
Here in Texas, our governor just reversed the mask mandate. It's breaking news over here. We're just like, "Oh, that's not a good idea." So I'm kind of glad we were able to get it before. I can't even imagine how things are going to get without the masks now, because, like they said, it helps stop the spread. [Editor's note: Like the rest of the U.S., Texas' COVID-19 case numbers have been declining in recent weeks.]
That actually brings up an interesting point. Because this virus has been so politicized, how does that affect your experience with getting vaccinated and getting your parents vaccinated?
It's frustrating seeing how the vaccine was politicized — the virus in general — because like there's no politics in life. Like, everybody should be working together. And it's just frustrating. Especially seeing my state not taking general well-being into consideration.
Is this immunization some sort of extra guard against those factors that you can't fully control?
I definitely feel like it's a way to extra protection because now there's nothing, like, there's no government control. So yeah, the vaccine is going to help me provide some protection.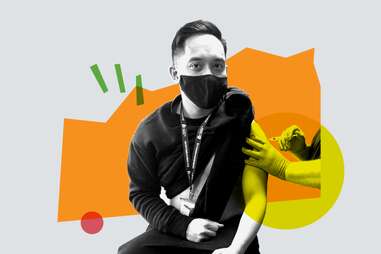 Mark

Makiling

, 34, dentist, New York
Mark Makiling signed up for Twitter to stay alert on vaccine rollout. He followed @TurboVax after reading a New York Times article about the bot's daily slate of vaccine openings. And then, he spent a lot of time on the New York Department of Health's site — booking about 30 appointments for people.
What has your process been like getting people signed up for the vaccine?
I've been basically making all my appointments for my family and friends at the Javits Center or in the city. It's just learning how to navigate the site and refreshing the hell out of it to complete. I signed up for Twitter just to have alerts turned on for that. And then that just helped me get a lot of people their appointments.
What was it like navigating the sign-up pages, and what do you feel like are some of the major barriers?
The way I started doing it was, I was trying to get my mom an appointment. The thing that I came to realize was a lot of older people, they're not gonna understand how to use the site. Even when an appointment would pop up, it would go away. Then you'd have to go back and refresh again. I feel like I'm used to it just from buying sneakers, or, like, clothing drops, or movie tickets, or a concert, but I don't know how anyone who hasn't done that before would know how to navigate this.
We have family who are in New Jersey, and we've been trying to sign them up. And New Jersey's thing is just a whole other disaster. Basically, the only thing I could find was you either had to leave your number and just hope they call you back eventually, which God knows how long that takes, or you'd have to basically have to go straight to the pharmacy sites, but even those are really difficult to understand.
So now that you've developed this reputation, are people just reaching out to you for appointments, or to get people signed up that you don't even know?
Basically every time a big drop of appointments would come up, I would post it on my Instagram story just so like people I know could see it.
One time, my ex-girlfriend from high school happened to message me. And she was like, "How do you do it? Because I'm trying to get one for my husband right now. And I can't get it." And literally, as I was looking at the appointments, one popped up. So for the first time in I'd say 12 years, I spoke to her over the phone to book her husband's appointment. It's fine... it wasn't, like, bad terms or anything, but I was like, 'Wow, my high school girlfriend.' Honestly, for me, it's almost become like a game where it's like, exciting to get it. It feels like the old days when I would get concert tickets or sneakers or something. So, you know, a little slice of normalcy in this crazy time.
And some unexpected reconnections.
[laughs] My wife was like, why are you calling her?
That is the best anecdote I've gotten so far.
I don't have her number anymore, and the only thing I could figure out how to do on Instagram was like a FaceTime Instagram. So I literally FaceTimed her just to get all this information. She got the appointment, which I'm happy to help.
This is just the way that the United States works, but with the discrepancies between each different state's rollout — there is no universal plan. What has your experience been like with that?
When I started doing the New York ones, I thought, 'Oh my God, this is such a mess.' And then the more I learned about the surrounding states, I'm like, 'Oh my God, New York actually has a pretty good,' like, at least like there is a way to get it. Like eventually. My wife's grandmother is 87 years old and has a history of cancer and has not been able to get a vaccine appointment. That is literally, I feel like, the first group that was supposed to be prioritized through all this, you know? I wish there were good people who solved the answer of making a nationwide [plan], But I also know that's hard, especially with the way things go in this country sometimes.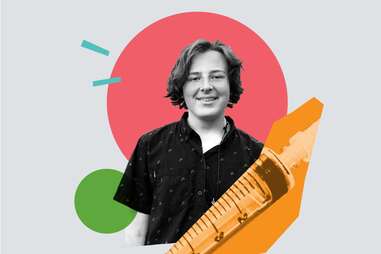 Jonah D

'Ambrosio

, 17, student, Georgia
Jonah D'Ambrosio is one of many teens who signed up their elders for a vaccine. Through a chain of communication in his family, he ended up signing up both parents, his grandfather, and other relatives — and noted that the websites he'd navigated were not built for folks who actually qualified.
Tell me how you got into registering others for vaccines. How did you realize that that was a need and what [were] your first couple steps?
My grandfather who lives in St. Augustine, Florida, was really struggling to get a vaccine because he didn't know how to use the online portal. It opens at 9 a.m., and this was back earlier in February. So the slots filled up very quickly. I already wake up at 9 a.m, or a little earlier, for school. So I would just wake up a little bit earlier than that and hop on, and he would text me his information, and I would get him registered. So that's really how it started. And then more people came to me and said that they needed help.
How did they find you?
First it was my great aunt, because she heard from him. [My grandfather] drives for a service delivering meals to people that are stuck in their houses, like very elderly people or sick people. So he was talking to customers, and they were saying that they wanted to get a vaccine — but they didn't have an email address. They didn't have computers. They still had a home phone.
So he, through my mom, came to me and was like, "Can you help them get vaccinated?" So I was like, "Sure." 'Cause it's not a huge commitment for me. It's just me on my computer and like 15 minutes.
[smiles] So this has been a free service from you?
Yes. I'm not charging for it, obviously.
What has this last year been like for you? And what was it like to be able to help people hopefully become safer from this virus?
The last year has been very interesting. I personally love online school. I love waking up later and being able to get my work done at any time instead of having to wait to get home and do homework. But I know it's been hard for a lot of people, especially my younger siblings. It's really hard for them because some of them are in kindergarten. They want to go to school. They don't want to be online.
It's been hard for me recently, especially seeing a lot of my friends going out without masks, hanging out with their friends or their significant others or whatever. It's hard to just watch all of the people suffer, and I'm living here very luckily being able to go to school from home, and my parents have been able to work from home.
And then helping people get vaccinated is good. I'd love to help more people get vaccinated. My friend is actually tutoring elementary school kids, and she wanted to get vaccinated. So I helped her fill out her forms and everything.
Any other difficulties that you've experienced with the different sign-ups that you've used?
I did most of them in Florida and some of them in Georgia, and I feel like it is hard. I mean, I signed up for a NASA internship, and it was way easier.
Even today [March 15], I signed up my friend at the Walgreens website [in Georgia]. They didn't want to send us a confirmation code, and then we had to, like, call them and get a confirmation code, and the form was not clear. And in Florida, it's very similar.
And you grew up with technology, so you have a different relationship to some of the people who need vaccines sooner than you, which is a really unique situation.
Exactly. Because a lot of the vaccine websites — well, now it's a little different, it's Phase [1B] in Georgia — but earlier, it was just for 65 and up. These websites are not made for people who are 65 and up. It would have been so much easier if you could incorporate some way of getting it to elderly citizens because they're the ones that actually need the vaccine. I just found it interesting that the websites are made for younger people, even though they're really not the target demographic.
Timothy Moore took his own advice for his students and applied it to the COVID-19 vaccines: Get more knowledge. Moore grew up in Tuskegee, Alabama, the site of the 1932 syphilis experiment on Black men that fueled skepticism about medical initiatives promoted by the government. While medical mistrust lingers within the Black community following decades of disparities in care, the need for adequate health care is more important than ever. During a pandemic that has disproportionately killed Black Americans, whether or not to get a COVID-19 vaccine has become a hot-button issue for many Black people — including Timothy Moore. Moore, a self-described "girl dad" of three daughters, is at higher risk for a severe COVID-19 case because of his weight and asthma. He has been hesitant about getting vaccinated and said in an interview with NowThis that one of his parents, also from Tuskegee, got a flu shot for the first time this year. After overcoming his own hesitation, Moore got the Moderna vaccine in early March.
How was getting vaccinated for you?
Nerve-wracking. In Memphis, they reopened all the schools. It became very pressing: I'm going to be around adults; I'll be around kids. A lot of the areas I serve are low-priority areas. It was going to be pretty important to me to be protected, having a newborn in the house, coming back home. And then I do poetry on the stage. I was just going to be so exposed. So it became science versus fear. I started having a lot of conversations around safety, read a lot of material. One of my friends was a microbiologist, and we had a real profound conversation. I kind of settled on the Moderna, got signed up.
I actually went and the process itself was pretty quick. The longer I was in line, the more my mind started going, "You know you were born in Tuskegee, right?" It was just like all these thoughts. And I was like, I hope I don't grow a third horn or something. I was just kind of settled down and I was like, ok, I'm doing this for myself. I'm doing it for the community. I'm doing it so that I can educate young people, which I love. This is why I'm here. Once I came to that kind of standpoint, I was ok. The nurse was really good. By the time she shot me and got it done, I didn't even know that I had even been vaccinated. Afterwards, it was pretty cool. I had a little stiffness in my neck, which was normal. Woke up the next morning, I was fine.
What changed for you? You were very, kind of like, "No, I don't trust vaccines. I might do it for school, but probably not"? What were the biggest factors?
What really kind of catapulted me from being very hesitant — and I'm still hesitant in theory — but my love of teaching young people, the thought of not being able to do that, kind of quelled my internal fears. I love education, and I love Black and brown people so much that the thought of not being able to be in a building with them, and teach them, and educate teachers, and educate principals, and just dive in wholeheartedly, it was tough. Being a Black educational consultant is tough; there's not a lot of us out there. So for me, it became accountability to myself. Like, how do I get myself in that building safely? How do I protect my family? You have to make the greatest decision for yourself, and for your family, and your community so that you can feel good about what you're doing. I love education. I love people. I love my family. I love the stage. I love poetry. To get back to those things, this was the safest route for me at this time.
You mentioned a conversation with a microbiologist. What did you ask, and what was said?
I was interested in long-term effects versus short-term effects of studying this type of vaccine. He really went into a lot of deep science and a lot of deep pedagogy of how they translate vaccines and possible outcomes over time. And he basically was like, "This is really safe." And then something that I was ignorant on was that, "Oh, corona has been around for a while. This is a different variation of it." So he was saying that the actual virus itself has been studied.
My sister is also a nurse, and she was just very adamant. She was like, "Every vaccine has side effects. But at the end of the day, what is more critical for you?" For me and my body, catching COVID would most likely be fatal.
Going down the rabbit hole and just really deep-diving into the research, I became a lot more comfortable. I became a lot more confident.
You knew you had asthma before, and you're citing it as a reason you got the vaccine. Was it the information that you got from them about what would happen with or without the vaccine that changed your mind?
The risk-reward became very weighted on me. It became weighted in my spirit. It became very hard for me to sleep thinking that, ok, if I go this early in life, then who's going to be there to, you know, take my daughters to the prom, to walk down the aisle? It became another piece of me being safe, and [valuing] my body, and being kind to myself, and loving myself.
It became an outward outlook of how we fight the thing that we can't see. So I started really translating towards my own internal fears, my own kind of internal biases because of my background, because of being Tuskegeean, because of things that I've seen with the government and how it treats Black and brown folks. It became a way for me to control my own narrative, and control my own power of what I want to do and what I want to do with my body.
Once you decided you were going to get the vaccine, did you tell your family and did anyone discourage you from getting it?
Well, my family and friends circle is very interesting because I gravitate and people gravitate towards me in so many different ways. I've been in the media a lot and an outspoken advocate that Black [people] being afraid of this thing and being hesitant is not irrational. So when I did go, [my community] thought it was a prank.
For me, it was very difficult. I had a conversation with a teacher, and she pushed back. She was like, "You're at home, in the safety of your house. I'm here in the building." I had no answer to that. All I could do was tell her, "I empathize with you." I found a certain level of hypocrisy in myself being in the safety of my home. And I was like, ok, I have to remedy the situation, to be in the field, in the trenches. I got your back. We're going to do this work in a pandemic together. Once I did go down that route, then my girlfriend went and got vaccinated. My oldest daughter went and got vaccinated. I never told them to. I thought that this was a medical situation, a personal decision.
Did your parents get vaccinated?
No, my parents have not come across that border yet. My parents are still looking at me like, "I can't believe you did it." So they're not angry with me. They love me. They're pretty isolated about what — where are they going and how they go about it. I'm gonna try to persuade her and try to persuade my parents to come on across. I really got to the point now where I'm like, "This is why I did it. This is how I did it."'
Keaton Akers, travel nurse, 24, Ohio
Keaton Akers worked in a COVID-19 unit in his hometown of Richmond, Indiana, during the "hell of the pandemic" — and now he's pumping vaccines into arms. He's been working as a nurse for two years and is currently based at Miami Valley Hospital in Dayton, Ohio, where he's been giving doses since February to everyone from vaccine-hesitant folks to a 90-year-old woman who couldn't be more excited to see family again.
Have there been any challenges for you as the person administering vaccines?
Thankfully, not really. I think [the site where I work is] really preparing well, and they're doing a great job of not wasting vaccines and just doing an organized fashion where we can have a lot of nurses giving the vaccine so we can make it smooth.
Any other anecdotes that stand out to you in terms of people that you've been able to give the shot to?
I had one lady who was scared to death of it. And so she signed up just to see how it went and stuff. She came to me and I think she had 20 questions written down [laughs] where she was quizzing me on everything. So it was really tough because she was so nervous, and you could see, like, even she was shaking, and she was so scared of this. But at the same time, she had [chronic obstructive pulmonary disease], and if she contracted COVID, she would be at risk of dying.
[Persuading her meant] just taking time with her. It took a lot of extra time and kind of held the line, but it was worth it because she ended up taking the vaccine in the end.
There are a lot of people who are scared, and they'll ask, "Are you sure about this?" Usually, I tell them, "Oh, I took it. I'm doing great." And I've given a lot of these doses, and I've never seen someone have side effects on it, besides maybe, like, a sore arm the next day.
I tell them about my experience working COVID, since that's my primary job. I've not had anyone walk out and not want to take it, though. So that's the good thing. I had one lady tell me I should be a medical sales rep because I was so good at convincing them. So I must be doing something right.
Are you trained in that kind of a thing or is it just sort of a part of the job?
We have a tip sheet that goes over common questions that we can go [over] with the patients, but I think it's really just your personality, and how you approach them, and how you just develop a relationship with them. I'll try to find something I connected with them [on] outside of the vaccine, and then it kind of helps for it to flow from there.
How quick is the process generally?
It's pretty quick. I go over some basic questions, some health history and those things, and then give them a shot. They have to wait 15 minutes because the first 15 minutes are the most crucial time that a patient can have a bad reaction. So then we have to wait 15 minutes, and then schedule the next dose and send them out.
If they're not a hundred percent sure [that] they're going to take the shot, those do take longer — I would say 45 to an hour. It's 30 minutes if you just want in and out, and you don't really want to talk to anyone or anything. Most of the patients are so grateful, going around and, like, thanking people for working it. It makes me feel like I'm really making a difference. Not that I wasn't when I was working in the COVID unit, but I really feel like I'm making a big difference here because I'm preventing them from getting this horrible virus.
Do you view it as this once in a, hopefully, lifetime experience?
That is the other cool thing. When I'm talking to these people who are in their 70s and 80s, they're like, "I've never seen something like this." I'm hoping that means it's once in a lifetime and won't happen again, but you can never be for sure. But I mean, fingers crossed we can beat this, and next year, we can have a more normal life.
NowThis correspondent Zinhle Essamuah contributed the interview with Timothy Moore. This piece was edited by Versha Sharma and copy edited by Gabby Lee and Shayna Posses. The photo illustrations are by Andrea Wang.