Architects Build 3D-Printed House With Local Raw Soil
This home was built with a 3D printer using local raw soil. Based in Massa Lombarda, Italy, the project was put together by World's Advanced Saving Project (WASP) and Mario Cucinella Architects.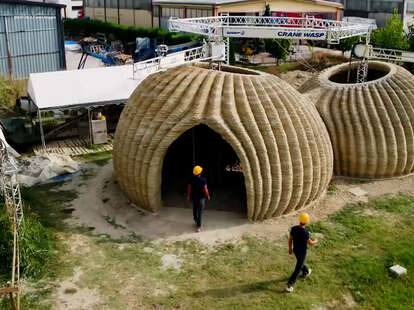 According to WASP, multiple 3D printers used completely reusable and recyclable materials, including local clay. Mapei, a construction material producer, studied the clay to identify which components would work best with the printers to create the house. Mapei used those components to create a 'highly optimised printable product.'
It reportedly took approx 200 hours over the course of several months to print the model. The house, called TECLA, has almost no carbon emissions, according to Floornature.com, and its shape, insulation, and ventilation were designed based on its surrounding environment. The home is approx 645 sq feet and has a living area with a kitchen, as well as a sleeping area.
The project was finished in the spring of 2021. Its designers hope that it can demonstrate the future of sustainable housing.