Paid Content For
Can Oysters Save the Planet?
Oysters may be able to act as storm safeguards with structures known as oyster reef living shorelines. Presented by Honda.
Paid Content For
Credit: SCAPE Studio
Credit: SCAPE Studio
While we may not be able to do anything to prevent the existence of hurricanes, we can do something to help mitigate the destruction they leave behind — and the solution might be oysters. 10 years ago in New York City, during Hurricane Sandy, water levels reached nearly 14 feet above the average low tide level as the storm pummeled the northeast. Sandy ultimately left at least 125 dead, millions without power, and $60 billion worth of damage in its wake.
Oysters may be able to lessen the strength of the waves, and structures known as oyster reef living shorelines can act as a storm safeguard. According to studies conducted in the Gulf of Mexico, these structures can reduce the energy of powerful waves by as much as 76% to 93%. Unfortunately, it's estimated that approx 85%of the world's oyster reefs have been lost.
Oyster reefs used to be prominent throughout the globe, especially in New York. Nearly 415 years ago, when Henry Hudson arrived where the city now stands, approximately 220,000 acres of oyster reefs littered the harbor. At the time, that was almost half of the world's oyster population. But, with a cocktail of overconsumption, disease, and pollution from untreated sewage, New York's thriving oyster population died off.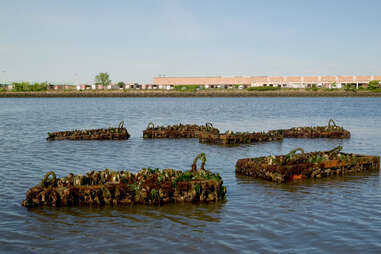 Living shorelines, like oyster reefs, play an important role in coastal defenses and will become more critical as storms increase in strength due to the climate crisis. If the changing climate isn't what stresses you out, maybe money will. One study estimated that human-induced sea level rise accounted for $8 billion worth of damage during Hurricane Sandy.
That's where restoration efforts come in. SCAPE's Living Breakwaters, along with the Billion Oyster Project, is working quickly to implement 2,400 linear feet of near-shore breakwaters to reduce coastal erosion in Staten Island.
SCAPE installs oysters on their breakwaters to help accelerate the coastal restoration process and increase biodiversity in the area. "We also have these tide pools, so on the intertidal zone, so they're already full of clams and barnacles," Kate Orff, founder of the project's design studio, told NowThis. "This is like the place to be if you're a shorebird right now, so we've had many, many shorebirds sited. We even had a bald eagle land on the breakwaters last week — a huge eagle. I was in shock."
"We have something like 15 billion oyster schools now on shore on Staten Island," Orff said. She hopes in 5 to 10 years, they will have a thriving oyster reef.
While oyster reefs may be useful natural breakwaters in a storm and are able to help lessen the blow from major storms, it is not a be-all, end-all solution. Elevated CO2 levels are causing ocean water to be more acidic, which in turn makes it harder for oysters to form their shells and thrive.
There's also the issue of overharvesting, but you can actually help with that by donating the shells of oysters you eat to restoration projects in your area for recycling.
There are hundreds of millions of dollars being spent across the globe to restore oyster populations. Even the military is working hard to install several oyster barriers in multiple states, investing millions to protect piers and airstrips.
So, next time you slurp down an oyster, remember it could have been the solution to coastal defenses against hurricanes.