Cleanup Efforts Underway in California After "Catastrophic" Oil Spill
An oil spill in Southern California over the weekend has caused indefinite damage to local beaches and wildlife.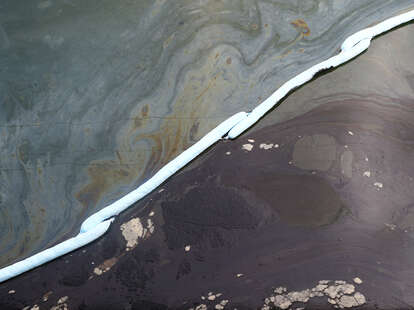 Cleanup efforts continue after a pipeline failure off the coast of Orange County, CA, dumped more than 126K gallons of oil into the water, killing wildlife and resulting in a 13-mile long oil slick.
The 17.5-mile pipeline connects to an offshore oil platform operated by Beta Offshore, one of the largest oil producers in Southern California. On Sunday, officials reported that the leak had stopped. Oil removal efforts are still underway.
The threat to wildlife is immediate. Dead fish and birds have already washed ashore on some beaches in Southern California. Beaches in the city of Huntington Beach are closed indefinitely.
Disastrous oil spills are not unprecedented in the area: in 2015, the Refugio spill, one of the worst spills in the state's history, released approximately 2,400 barrels onto the shore and ocean near Santa Barbara. In 1969, 80,000 barrels spilled into the ocean -- also off the coast of Santa Barbara.
"In a year that has been filled with incredibly challenging issues, this oil spill constitutes one of the most devastating situations that our community has dealt with in decades," Huntington Beach Mayor Kim Carr said during a press conference.
The cause of the leak was not immediately known. Dive teams are inspecting the pipeline to look for the leak's source.
In the wake of the catastrophic oil spill, environmental groups are pushing for California to move towards renewable energy and to stop drilling off of the California coast. Northern California environmental teams traveled to Huntington Beach to help with clean up efforts. The Center for Biological Diversity and the University of California Davis School of Veterinary Medicine are responding to oiled wildlife.
"If birds are covered in oil, they can't fly," the Center for Biological Diversity Senior Scientist John Fleming told NBC. "They can't clean themselves they can't regulate their temperatures and that could lead to hypothermia and death and in the case of larger mammals," Fleming added.