More than 1,000 vulnerable manatees died in Florida waters this year, according to the Florida Fish and Wildlife Conservation Commission. This massive die-off of the species met the criteria to be classified as an 'unusual mortality event' and has prompted officials to take out-of-the-ordinary steps.
U.S. Fish and Wildlife Service and other state wildlife officials will begin a short-term manatee feeding trial in Florida in an attempt to slow the record die-off of the aquatic mammals and limit the number of manatees that need rescuing due to limited rehabilitation space.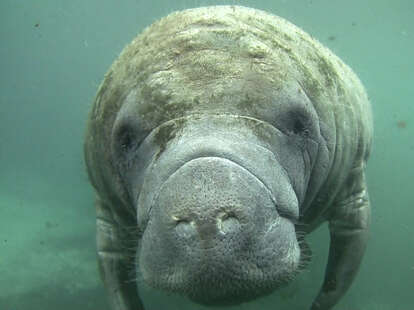 Pat Rose, an aquatic biologist and executive director of the Save the Manatee Club, told USA Today, 'For manatees, it's absolutely unprecedented. This has never been considered before.'
Scientists say the record manatee deaths in Florida are the result of seagrass loss in the Indian River Lagoon, which has been exacerbated by human pollution. Adult manatees reportedly need to eat an average of between 100 and 200 pounds of sea grasses and weeds every day in order to survive.
Although the decision to feed the manatees might help the struggling animals, conservationists want to remind the public that they shouldn't be feeding manatees or any other wild animals:
'Please remember that it remains ILLEGAL for individuals without proper permits to feed wild manatees. Instead we ask the public to report sick, injured and malnourished manatees immediately to FWC at 1-888-404-3922,' Save the Manatee Club wrote on Twitter.