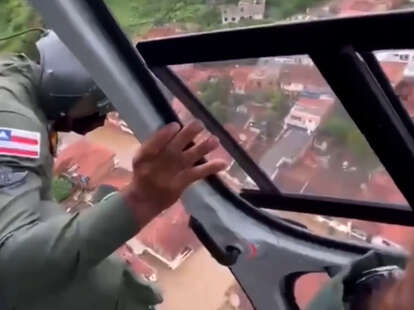 Extreme rains have caused destruction in northeastern Brazil, killing at least 20 people and leaving more than 50,000 displaced, according to the New York Times. Two dams in Bahia collapsed under the strain on Saturday night and Sunday morning, further worsening the situation.
Valmir Assunção, a Brazilian congressperson from Bahia, told the New York Times, 'There are more than 116 municipalities in a state of emergency. The rains destroyed bridges, roads, and houses in our state.'
Many are pointing to climate change as a factor, as a warming ocean affects weather patterns. For the past five years, states in northeastern Brazil, including Bahia, have been experiencing a drought, according to the New York Times. Until December, when intermittent rains led to the highest recorded rainfall in Bahia since 1989. Itamaraju, a municipality in southern Bahia, recorded 769.8mm of rain. It typically sees 148mm of rain in December, according to data from the National Center for Monitoring and Early Warning of Natural Disasters.