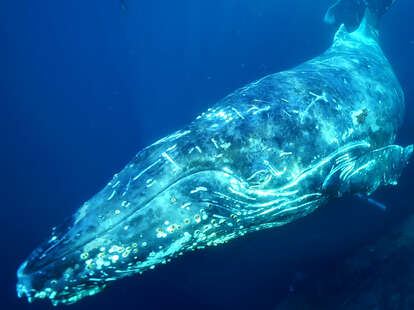 A local court has halted Shell's oil exploration in the Wild Coast along 155 miles of eastern South Africa while waiting for a final ruling. The exploration involved seismic tests, blasting sound waves through more than 2,000 square miles of water that are home to whales, dolphins, seals, and a myriad of other marine life. According to the BBC, local communities represented in the lawsuit claim that their rights to small-scale fishing in the area had not been respected.
Lawyers for the local environmental groups provided more evidence that the tests would harm marine life and argued that Shell didn't consult with communities that would be affected by the tests, according to the Guardian. Earlier in December 2021, a legal challenge to block the tests based on their environmental impact was unsuccessful. Shell's plans for exploration were originally approved in 2014, just months before new regulations were established—and now, Shell may need to abide by these more stringent rules to continue.
'The voices of the directly affected people have at last been heard, and the constitutional rights of Indigenous people have been upheld,' said Sinegugu Zukulu, a program manager for Sustaining the Wild Coast, to the Guardian.
'As coastal communities, we have relied on the sea for centuries—and we are glad that the judge has recognized that our ocean livelihoods must not be sacrificed for short-term profit,' said local campaigner Nonhle Mbuthuma to the BBC.
A Shell spokesperson commented to the Guardian, 'We respect the court's decision and have paused the survey while we review the judgment.'