These Jaguar Cubs Are Reportedly the First of Their Kind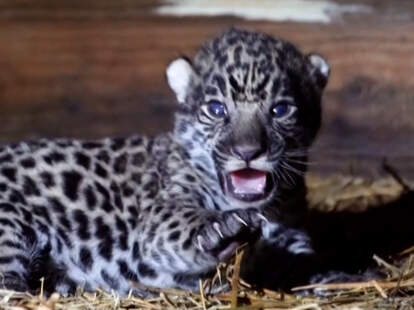 Two jaguar cubs, born on Jan 30, 2021, are the offspring of a wild father who has never been captive and a captive mother who has never been wild, and scientists think it's the first time this has ever been done.
The courtship between Tania and Qaramta started in 2019. Tania, who was acquired from a local zoo, got acquainted with Qaramta through the fence of her enclosure at El Impenetrable National Park in Argentina. Researchers finally let Qaramta into Tania's enclosure in late 2020. At the time, they were unable to confirm that the jaguars had mated, but with the birth of the cubs, it now appears that the mating was completely successful.
Jaguars had been largely wiped out in the area of El Impenetrable National Park, but researchers from conservation group Rewilding Argentina say that Qaramta, Tania, and these two cubs provide them with a glimmer of hope.
'They are a kind of symbol, starting with the recovery of the jaguar in the Chaco that if we didn't do something, [they] would end up becoming extinct,' said Sebastián Di Martino, the conservation director at Rewilding Argentina.