This Company Harvest CO2 & Methane to Make Carbon-Negative Plastics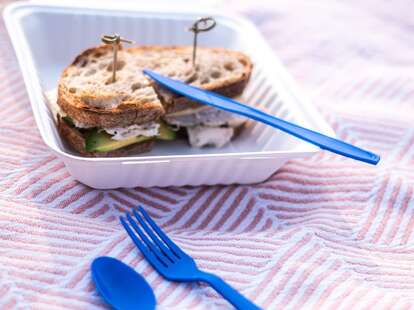 As companies around the world make plans to finally eliminate single-use plastics in a bid to help the environment, California-based Newlight Technologies has developed a biodegradable material called AirCarbon. AirCarbon takes methane and carbon dioxide—the two most prevalent greenhouse gases—out of the atmosphere and turns them into a polymer. AirCarbon can be molded just like plastic to make single-use biodegradables like straws and cutlery, or it can even be used to make things like handbags and sunglasses. The production process reportedly removes more carbon dioxide from the atmosphere than it generates, making it carbon negative.
The company currently works from a single facility in Huntington Beach, CA, and claims to make enough product to remove the equivalent of 100 million pounds of CO2 per year, or the equivalent of taking 10,000 vehicles off the road. The company's founder wants to massively increase that number.
'If you really want to have a massive impact on the environment, you have to focus on performance and you have to focus on price and you have to focus on scalability,' Mark Herrema, CEO of Newlight Technologies, said to CNN. 'Otherwise, it's just a good idea, and that's not good enough.'
Newlight Technologies is currently in talks to partner with other brands to potentially scale up the operation.