These Parkland Survivors Made A Contract So People Social Distance & Wear A Mask
The Buchwald brothers, who are based in Florida, started the "Promise to Humanity" movement to ask participants to sign a contract, promising that they'll help slow the spread of COVID-19.
As Florida has become a new epicenter for the coronavirus — consistently breaking records for new single-day cases — two Floridian brothers are hard at work asking people to wear their masks.
Adam and Josh Buchwald's "Promise to Humanity" campaign has a simple goal: enlist people to sign contracts pledging to wear masks and practice social distancing during the pandemic.
So far, more than 6,000 people across the U.S. have signed their contract. Signatories include actor Abigail Savage, known for her work on Netflix's "Orange Is the New Black," and Rep. Ted Deutch (D), one of several legislators in Florida who've pushed Gov. Ron DeSantis (R) to issue a statewide mask mandate.
"There's nothing out there like this," explained Adam, a sophomore at the University of Florida. "Why wouldn't we [work to] make an impact?"
When Americans were seen flocking to beaches and backyard barbecues as summer arrived, the brothers told NowThis they were upset.
"It's such a simple task to wear masks and social distance. It is so easy that it takes no effort," said Josh, a high school senior, during a joint phone interview. "It's amazing how selfish people are to go outside and hang with all these people [without following basic guidelines]."
"At the end of the day, a mask is going to protect you," Adam chimed in. "We're the generation that's going to step in and make a difference and help advocate for common sense guidelines."
More than 360,000 COVID-19 cases have been reported in Florida as of Tuesday, according to Johns Hopkins.
The Buchwalds have a sister who lives with diabetes and grandparents whose health is at risk, so they said the potential impacts of the virus have hit close to home. Plus, this isn't the first time the brothers have fought for the safety of their loved ones.
In 2012, the brothers had teachers in their small Connecticut town who lost colleagues during the Sandy Hook school shooting. Years later, they relocated to Parkland, Florida, where they became students at Marjory Stoneman Douglas High School and witnessed firsthand the mass shooting in 2018 that left 17 people dead. The Buchwalds said they knew five of the victims from their basketball league, classes, and local DJ gigs.
"It honestly has changed my perspective of life and how I appreciate every day and spend time with my family and friends," said Josh, who was a 15-year-old freshman when he heard shots ring out.
Adam added: "[From] Sandy Hook to Parkland, I felt that I had to do something in the community to make a difference."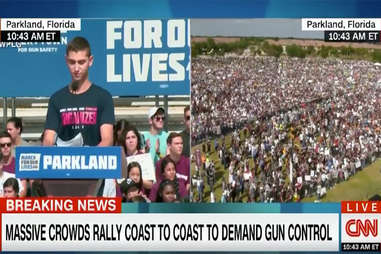 In 2018, Adam teamed up with his friend Zach Hibshman to launch a different contract-based campaign, "Parents Promise to Kids" — one in which parents vowed to elect legislators who would prioritize children's safety over guns.
"We got so much support from around the world," described Adam. "And now we've launched the 'Promise to Humanity' campaign. Same contract, different message."
Their message has reached small American towns, too. One woman emailed them from a Pennsylvania community of approximately 100 people, asking for copies of the contract to send with her child to school, Josh told NowThis.
"Persistence is key," said Adam. "We're not going to give up until we make a difference in our work."
In partnership with the World Health Organization (WHO), "Promise to Humanity" has garnered support over social media and by word of mouth. The Buchwalds have also helped build a COVID-19 youth survey, which the WHO, UNESCO, and other collaborators will use to understand coronavirus information and attitudes.