#ProudBoys Is Filled With LGBTQ+ Couples Celebrating Love
The extremist group attracted headlines last week after President Donald Trump told members to "stand by" during the first presidential debate.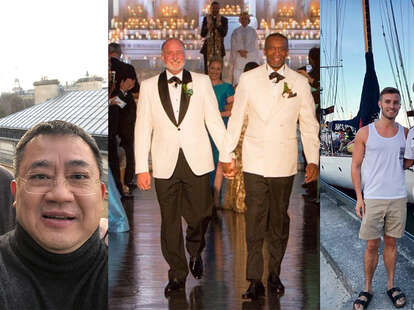 LGBTQ+ couples and allies on Twitter drowned out the hashtag #ProudBoys with photos of love and messages of support this weekend, contrasting the extremist group's known association with hate and white supremacy.
The social media campaign came after the group celebrated online following President Donald Trump's refusal to condemn white supremacist groups during last week's debate, instead calling on the Proud Boys to "stand back and stand by." The group is classified as a hate group by the Southern Poverty Law Center, and the Anti-Defamation league calls its ideology "misogynistic, Islamophobic, transphobic, and anti-immigration."
It's unclear how the idea took off, but on Thursday, former "Star Trek" star and actor George Takei suggested in a tweet overtaking the hashtag for the group, which is banned on Twitter.
Takei suggested in a tweet that gay men post "pictures of themselves making out with each other or doing very gay things" along with the hashtag #ProudBoys — in the spirit of other communities such the K-pop fanbase ARMY, which drowned out hashtags #WhiteLivesMatter and #AllLivesMatter earlier this summer.
Over the weekend, gay men along with allies posted photos of couples filled with pride and affection.
The account for the Canadian Forces in the U.S. also joined in on Sunday with a thread, and the organization's photo post has been retweeted nearly 30,000 times as of Monday.
Celebrities also participated in the viral campaign.
Enrique Tarrio, leader of the Proud Boys and grassroots organization Latinos for Trump, told CNN that he thought the social media campaign was "hysterical." He added: "This isn't something that's offensive to us. It's not an insult. We aren't homophobic. We don't care who people sleep with. People think it's going to bother us. It doesn't."
However, Forbes reported that members of the group posted hateful messages referencing the Twitter posts on the social media app Parler.
The president, following backlash, eventually denounced white supremacists, including the Proud Boys, two days after the debate. During an appearance in Ohio last week, Biden addressed the Proud Boys and "every other white supremacist group" by repeating "cease and desist."