A 7th Grader Has Officially Named NASA's 2020 Mars Rover
The rover is projected to land on Big Red in February 2021.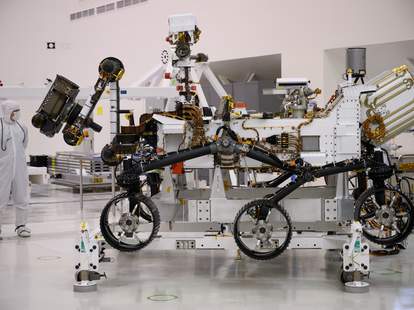 The fifth NASA exploratory vehicle to ever hit Mars has a name that probably resonates with a lot of people on this planet: Perseverance.
NASA's Science Mission Directorate associate administrator announced the name Thursday at Lake Braddock Secondary School in Virginia. Per tradition, a young student chose the name as part of a nationwide contest.
Seventh grader Alex Mather submitted the winning name and was one of 155 semifinalists. A group of 4,700 volunteer judges including teachers and space enthusiasts narrowed the pool to nine names. Then, more than 770,000 people voted online, according to NASA.
Mathers and his family also won an invite to Cape Canaveral, Florida, to watch the rover launch this summer.
Past names for Mars rovers have included Sojourner, Spirit, Opportunity, Curiosity.
"Curiosity. InSight. Spirit. Opportunity. If you think about it, all of these names of past Mars rovers are qualities we possess as humans. We are always curious, and seek opportunity. We have the spirit and insight to explore the Moon, Mars, and beyond," Mathers wrote in his winning essay. "But, if rovers are to be the qualities of us as a race, we missed the most important thing. Perseverance. We as humans evolved as creatures who could learn to adapt to any situation, no matter how harsh."
Runners-up included Vision, Clarity, Excelsior, Emergence, and Visionary.
Perseverance is projected to land on Big Red in February 2021.The mission's two objectives are to identify evidence of ancient life, and to collect sample materials to bring back to Earth. You can follow along on Twitter.