Samsung Releases Flip Phone, Along with Other New Features
During the Samsung Unpacked press event, Samsung introduced their Galaxy Z Flip and S20 Ultra phones.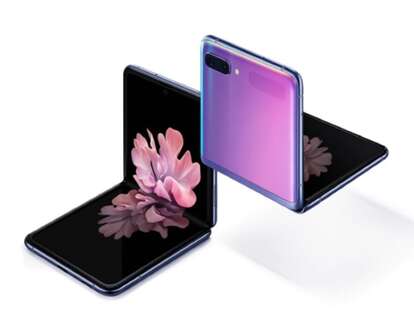 Samsung released a new flip phone on Tuesday as part of their Unpacked press event—and the design is a callback to the early 2000s.
The Galaxy Z Flip is a smartphone and measures less than seven inches when extended. It's super thin, with screens on the inside and outside and made to stand the test of time, according to the company. The price tag is $1,380, but is actually less than its Razr-reboot competitor at Motorola. The Galaxy Z Flip is also made out of glass, as opposed to the typical plastic, and has a hinge that's designed to keep dust out of the phone.

Other devices revealed at the San Francisco event included the S20 Ultra phone with 100x zoom and 8K video capabilities. It also has a new feature that allows more than one phone to connect to a Bluetooth speaker, new earbuds, and a "Single Take" feature, which allows users to take photos and videos from the telephoto, wide-angle, and ultra-wide cameras without having to switch modes. Samsung says the bluetooth feature will eventually roll out to other devices as well.
Pre-orders for the Galaxy S20 series will begin February 21 and will start at $999.99. The flip phone is available in stores starting Friday.