Self-Driving Cars Safely Deliver COVID-19 Testing Kits in Florida
The Mayo Clinic in Florida is utilizing autonomous vehicle technology to safely transport coronavirus testing kits to their lab from a nearby facility.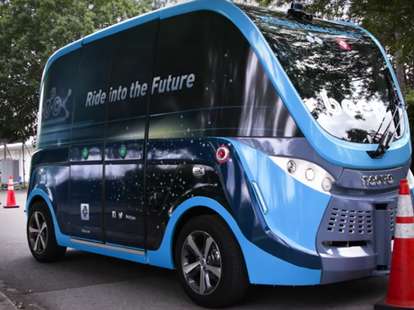 Self-driving vehicles/ Mayo Clinic
Self-driving vehicles/ Mayo Clinic
The Mayo Clinic in Florida is using self-driving cars to safely transport medical supplies and COVID-19 tests.
Jacksonville Transportation Authority (JTA) has partnered with autonomous shuttle company Beep and self-driving system creator NAVYA to be used by the Mayo Clinic. They're able to safely transport coronavirus testing kits from a nearby drive-thru testing facility to their lab and are a safer way to avoid human contact, in a time when social distancing is essential to slowing the spread of COVID-19.
"Using artificial intelligence enables us to protect staff from exposure to this contagious virus by using cutting-edge autonomous vehicle technology and frees up staff time that can be dedicated to direct treatment and care for patients," said Dr. Kent Thielen, CEO of Mayo Clinic in Florida.
The four vehicles started to work on March 30 and were specifically given the routes away from pedestrians and traffic. Officials in a command center also monitor their routes to make sure they arrive safely.
"The opportunity to work together with these organizations in an effort to provide a dedicated COVID-19 testing solution represents our goal as a company, and that's to create a more accessible solution in the moments that matter, whether that be crisis, shortage in manpower and resources, or other areas we can provide aid in," said Étienne Hermite, CEO of NAVYA.