Why We Can't Quit "Animal Crossing"
It's not our fault we can't put it down.
The author's (really) humble abode a few days into playing "Animal Crossing: New Horizons." | Nintendo
Nintendo's "Animal Crossing: New Horizons" is incredibly compelling — and its sales figures prove it. The latest entry in the 19-year-old franchise is the second best-selling video game of the year so far behind "Call of Duty: Modern Warfare," according to market research firm The NPD Group. The game's release likely contributed to a record March for the Nintendo Switch, selling more units than when the console launched back in March 2017. (Unfortunately, that means the console is largely out of stock, with retailers struggling to meet demand.)
The widespread popularity of "New Horizons" on YouTube, Twitter,  TikTok, and seemingly the entire internet suggests that this game is one people won't be putting down any time soon. A game centered around a deserted island getaway is proving to be the perfect escape from the bleak reality of coronavirus.
US NPD SW - Animal Crossing: New Horizons was the best-selling game of March 2020, despite the lack of digital tracking for Nintendo published software. Animal Crossing: New Horizons instantly becomes the 2nd best-selling game of 2020. pic.twitter.com/nxKtKKX78e

— Mat Piscatella (@MatPiscatella) April 21, 2020
Our collective "New Horizons" addiction can be explained by a new study of "sticky" games in the Journal of Marketing. It describes "sticky" games as "exciting journeys that customers yearn to continue" and offers three reasons why a game like "Animal Crossing" gets us hooked. 
Reason No. 1: "Animal Crossing: New Horizons" Sends Us off on Our Deserted Island Getaway ASAP

"New Horizons" is ridiculously easy at the beginning. As soon as we pick it up, we meet two characters, Timmy and Tommy Nook. The pair ask us to provide a few simple details such as our name and birthday. Then we're tasked with designing our own character's appearance and choosing the layout of the island we'll spend much of our time developing (and, once it's ready, showing off to our friends). Within minutes, we're whisked off to our new home to begin exploring.
The study explains, "If customers cannot experience the excitement of a service quickly …  they may turn their attention to something else."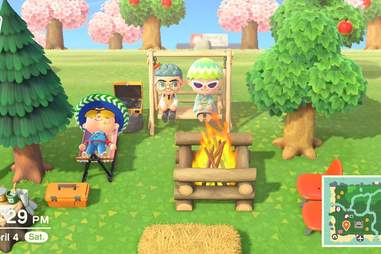 The author's character relaxes on a friend's island in "Animal Crossing: New Horizons." | Nintendo
Reason No. 2: "Animal Crossing: New Horizons" Keeps Us Guessing as to What Surprising, Hilarious, or Downright Odd Thing Will Happen Next

Once we've started playing, "New Horizons" keeps surprising us. We begin to become obsessed because of what the study calls "endless variation." This is a sandbox game, meaning players are given lots of freedom in what to explore and when to tackle objectives. Much of what happens is up to us players, but "New Horizons" still constantly nudges us in certain directions. For example, earlier in April, character Zipper T. Bunny arrived on our islands and asked us to collect eggs and craft egg-themed items ahead of Bunny Day on April 12. 
Companies like Nintendo "focus on providing customers with infinitely variable configurations of a core service experience," the study notes, adding that these experiences tend to be "intentionally chaotic, maddening, and unpredictable." Those of us who spent much of April collecting eggs might agree.
Reason No. 3: "Animal Crossing: New Horizons" Offers Free Updates That Take Us Back to Our Islands Again and Again

The game keeps us hooked by introducing new things to do throughout the year. The egg-collecting has (thankfully) ended, but Nintendo recently announced a slate of new updates and events set to take place over the next few months. Among them is Wedding Season, an adorable month-long event in June where players can help arrange anniversary photographs. 
"Even the most exciting adventures can become familiar, exhausting, or boring after a while," the study says. "Eventually, brands must offer their customers new journeys."
 
It's no surprise, then, that "Animal Crossing: New Horizons" feels almost overwhelmingly irresistible — to the point that it's become a coping mechanism in times of social distancing. As the study explains, "Customers cannot seem to pull away, and even when they do pull away, they are eager to return for more."
So the next time you spend way, way too much time trying to catch that elusive great white shark in "New Horizons," you can recognize that it's not your fault — the game has been carefully designed to keep us coming back for more.