Op-Ed: Amanda Gorman Inspired the Country. It is Time to Listen to Young Women
In a backdrop of unprecedented challenge, fear, and animosity, here is a young woman who is willing to step into difficult truths and call on America to choose a compassionate way forward, her medium just happens to be poetry.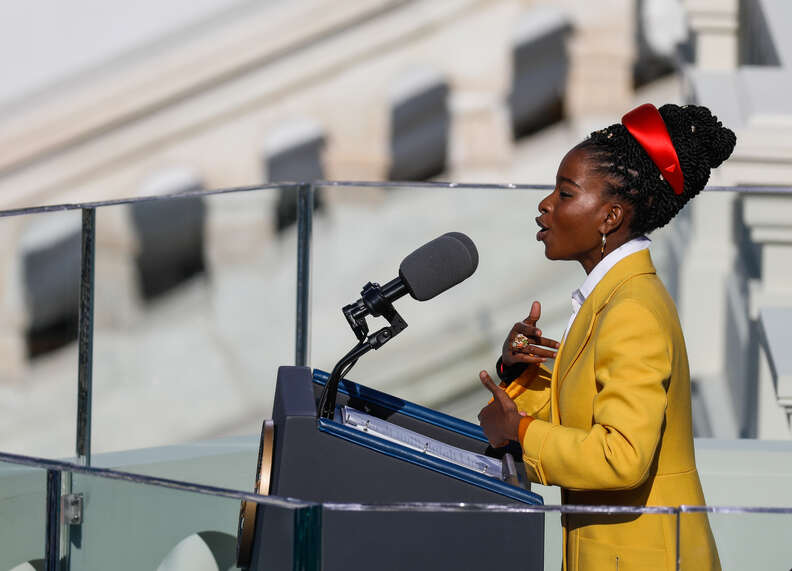 Amanda Gorman has continually captured our attention amidst an already momentous Inauguration day and again at Super Bowl LV as Americans gathered around their TVs to watch. Gorman's powerful words on Inauguration Day rose up to meet the moment in a way no one else did. What moved so many people wasn't her evocative poem or her talent alone, but this truly timely combination of message and messenger. What we all saw in Amanda as she spoke from that podium — what resonated and stirred up such overwhelming joy and admiration in so many — was leadership. While listening to her peformances, we should all consider how we can devote our time and money into creating places for young leaders to grow.
In a backdrop of unprecedented challenge, fear, and animosity, here is a young woman who is willing to step into difficult truths and call on America to choose a compassionate way forward, her medium just happens to be poetry.
What became so obvious on Inauguration Day was that our world needs more leaders like Amanda. The cultural work of reimagining leadership has already begun, thanks in large part to fearless youth advocates who've forced the world to pay attention. From Malala to Greta, the Parkland survivors to Little Miss Flint and Freedom March NYC, young people are formidable at mobilizing and directing sustained action on the issues they care about-which often happen to be the most urgent issues of our time.
Throughout 2020, we heard lots of calls to do things differently. An important place to start would be elevating youth leadership-especially from our most marginalized communities-and finding more ways to nurture leaders from a young age. We also know young women and girls are critical. New research has proven that girls in particular are incredibly effective in changing their parents' views on climate change. The good news is, there's no shortage of talented young women and girls, and we know what they need to expand their impact. Amanda's story is a perfect example.
I first met Amanda when she was 17. She'd been selected to join a vibrant network of young women from across the U.S dedicated to positively impact their communities for a leadership fellowship. At Vital Voices, we developed this program because we saw an urgent need to create a tailored space and community that invests in teenage activists, nonprofit founders and social entrepreneurs. These young women were already having a significant impact in their local communities, and we knew how to accelerate it further: sustained access to mentors, grants, skills training, and a global network. Over 11 years, our 300+ fellows have gone on to positively impact more than 202,885 people in 20 countries.
Through our work, Vital Voices has learned that what really makes a difference in these efforts is time. From our own research, conducted together with the Bill & Melinda Gates Foundation, we found that it took an average of 1.8 years of continuous support for women leaders in our network to make significant leaps forward. One-off trainings and grants simply don't cut it, and neither does a siloed approach. Leaders need an expansive, collaborative web of support-with it, they can achieve remarkable things.
Spurred on by her fellowship experience, Amanda established One Pen One Page, a storytellers collective. We pitched in with guidance and early funding, and connected her to a host of new allies. We've continually been awed by the incredible young women in this program. Alumnae like Chelsea Miller, who in addition to being a co-founder of Freedom March NYC, is an award-winning social entrepreneur who's tackling the intersectional leadership gap as founder of Women Everywhere Believe, Inc. Then there's Peyton Klein, who's Global Minds Initiative has already been adopted in dozens of schools, helping students combat cultural intolerance through youth-led education. I could recount literally hundreds more stories like these. They're proof of what's possible if we commit to nurturing youth leadership.
If we choose to, we can all take concrete steps to make way for many more Amandas, Chelseas, and Peytons. And I do mean all of us-no matter our sector, title or age, we're all needed to build out that web of support every young person deserves. We can make tools and information widely available. We can lend and share platforms to amplify young voices. We can nurture youth representation in all spaces where consequential decisions are being made.
Alyse Nelson is Co-Founder, President and CEO at Vital Voices Global Partnership, a nonprofit organization that invests in women leaders who are solving the world's greatest challenges, supporting them to scale and accelerate impact through long term investments to expand skills, connections, capacity and visibility. Over the last 24 years, Vital Voices has built a network of 18,000 change makers across 182 countries.