Hear From 6 Iconic Women Leaders In Their Own Words
These personal essays about gender equity are accompanied by stunning original portraits in a new book featuring 100 icons.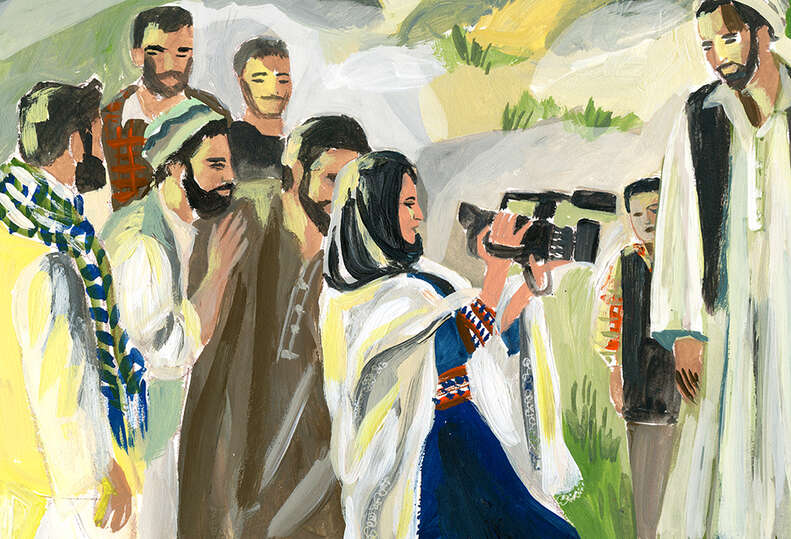 Editor's Note: The following is an excerpt from the book Vital Voices: 100 Women Using Their Power to Empower, a collection of original portraits and first-person essays published by Assouline that celebrates women leaders striving for a more equitable world, republished with permission from the artist and author.
By Alyse Nelson
From healthcare workers to community organizers and heads of state, 2020 has shown us countless examples of women leading with courage and compassion, helping communities cope in crisis and galvanizing movements for racial justice. For far too long, women — especially women of color — have been sidelined and undervalued for the very reason we need them most in this moment: women lead differently, and that difference is sorely needed in the world today. More than two decades ago, on the heels of the UN Fourth World Conference on Women, then- First Lady Hillary Rodham Clinton founded Vital Voices — for women leaders and because of them. On September 5, 1995, she sparked a new wave of activism around gender equality — inspiring those of us who were in Beijing to hear her momentous speech, and far beyond.
Watching Clinton use her voice, her platform and her power to empower other women was a call to action for me, and countless others. As we commemorate the 25th anniversary of her history-making speech, we are so proud to launch Vital Voices: 100 Women Using Their Power to Empower, an unprecedented collection of first-person narratives and original portraits by Gayle Kabaker celebrating 100 of the most influential and insightful women in the world. More relevant now than ever before, their powerful words illustrate the empathy, perseverance and collaboration that make women's leadership transformative. These remarkable leaders are getting us closer to a more equitable world. The wisdom and solutions they share in this book are a call to action, urging us to imagine the world anew and emerge stronger, more compassionate, and resolved to keep striving until every voice is heard.
Continue reading below for the first-person stories of six of the iconic women featured in the book, in their own words.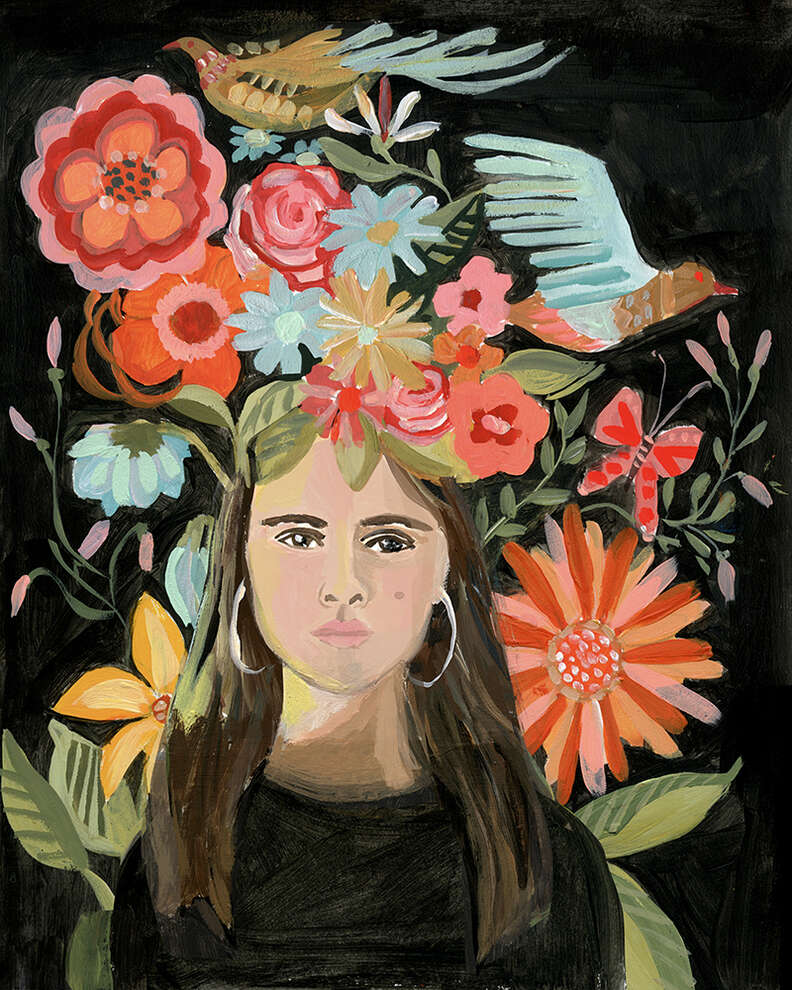 1. Xiye Bastida, an indigenous Mexican, youth climate activist, and member of the Indigenous Mexican Otomi-Toltec nation, who has emerged as a leading voice for the inclusion of indigenous communities in environmental activism.
Many people see the climate movement as having gained a lot of momentum recently because of the youth movement. But we know as youth that we did not start the movement at all. We're just bringing an element of urgency. Indigenous Peoples have been taking care of the Earth for thousands of years because that is their culture, that is their way of life. For me, being an environmental activist and a climate justice activist is not a hobby—it's a way of life.
I was born and raised in a small town called San Pedro Tultepec. My town had experienced drought for two years, then all of a sudden, it started experiencing rainfall to the point of flooding. That was the first time I saw the effects of the climate crisis. We're seeing extinctions of species every day. We see that the world around us is actually deteriorating, and we're not going to be able to live in a world that is clean and stable. That's why youth are rising up.
Change comes from our votes—not only in politics, but in business. The way in which we spend our money says a lot about what we care about, and it is a great way to systematically move towards a circular economy. We've been in the narrative of personal responsibility for too long, making people feel like they caused the climate crisis because they didn't recycle. But it is much deeper than that. It's about why companies are deciding to even pack their things in plastic and ship things across the world. So, as we become more conscious, we are going to change our habits of living, and that is going to bring change as well.
It's our generational responsibility to leave the world better than we found it. That's how I was raised. That's what my parents always told me. 'Leave this place better than you found it,' whether it's the bathroom or the kitchen or the planet.
2. Hillary Rodham Clinton, former secretary of state, U.S. senator and first lady of the United States. She used her power of platform to speak out on behalf of women and girls at the United Nations Fourth World Conference on Women in Beijing, China, in 1995, which sparked a global movement for women's empowerment.
"I believe that, on, the eve of a new millennium, it is time for us to break our silence. It is time for us to say here in Beijing, and the world to hear, that it is no longer acceptable to discuss women's rights as separate from human rights... If there is one message that echoes forth from this conference, it is that human rights are women's rights. And women's rights are human rights, once and for all." - United Nations Fourth World Conference on Women Beijing, China, 1995
There is a long, long history of trying to silence women. Even today, women who speak out, speak up, or seek positions of power and influence face a very real challenge. How many times have we witnessed the all-too-familiar criticism of women's voices and the dismissal of women's ideas that reveal deep biases and dangerous beliefs?
What inspires me is the fact that, everywhere I go, I meet women who persist anyway. To these brave women, and to women everywhere: Do not be intimidated or bullied into not speaking. Do not grow weary. Take heart, know that you are not alone, and know that you are changing things not only for yourself, but for those who will come after you. Stick to your own truth, stick to your own path, and don't let people knock you off of it.
Throughout my life and career, whether I have meant to or not, I have challenged assumptions about women. I make some people uncomfortable. (I'm well aware of that!) But that's just part of coming to grips with what I believe is still one of the most important pieces of unfinished business in human history: empowering women to stand up for themselves, and for one another.
There cannot be true democracy until women's voices are heard. There cannot be true democracy until women have autonomy in their own lives. There cannot be true democracy until all citizens are able to participate fully in the lives of their country and our world.
3. Tarana Burke, the founder of the "Me Too" movement.
For survivors, we often have to hold the truth of our experience. But now, we are all holding something, whether we want to or not. This accumulation of feelings that so many of us are feeling together across the globe is collective trauma. This is bigger than a moment—we are in a movement.
My vision for the "Me Too" movement is part of a collective vision to see a world free of sexual violence. I believe we can build that world. Full stop.
We reshape the imbalance of power by raising our voices against it in unison, by creating spaces that speak truth to power. We have to re-educate ourselves and our children to understand that privilege doesn't always have to destroy and take—it can be used to serve and build.
In my work, we strongly discourage victim language. Not only because psychologically it's more empowering to survive something than to fall victim to it, but because it pushes back on the false notion that we need or want sympathy or pity. We have already survived some of the worst things possible and we're still here. And so, we should be engaged from a place of power. We are a constituency, a power base, and we are no longer hiding in the shadows.
I could have never dreamed that I'd live to see a time where we were having sustained national dialogue about sexual violence in this country, but here we are. What this moment has solidified for me more than any other time in my life is that anything is possible. Even in these gloomy, untenable political times, I still feel like anything is possible.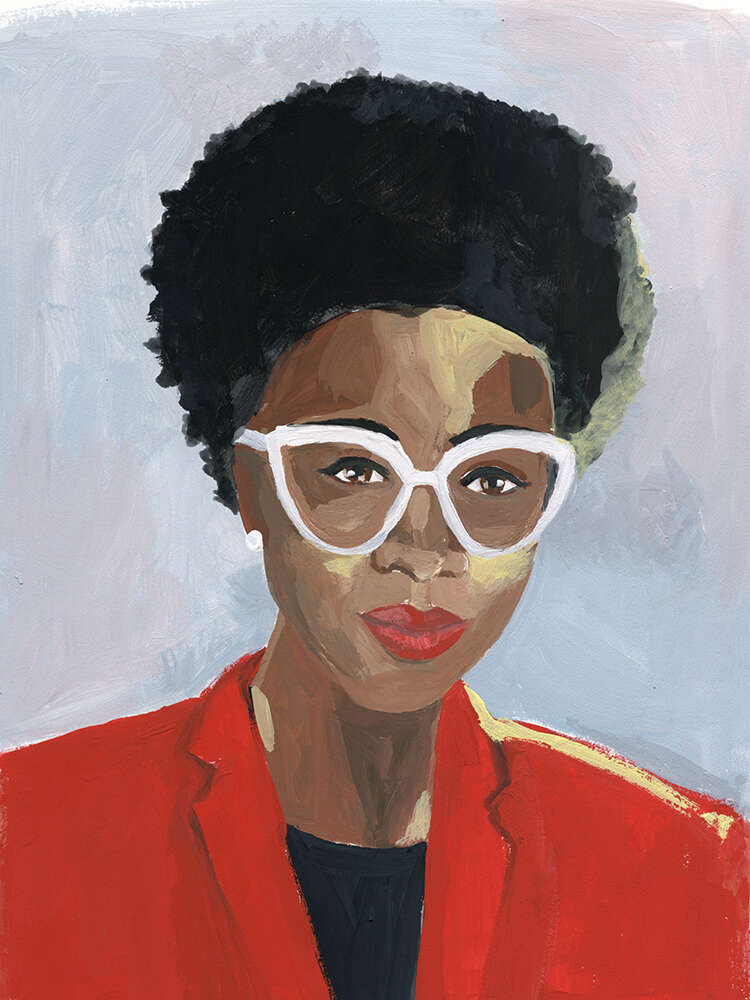 4. Joy Buolamwini, founder of Algorithmic Justice League, is a digital activist and a computer scientist who's on the vanguard of a movement to make artificial intelligence equitable and accountable.
I was working on a set of art projects—and one particular installation needed face-tracking technology. And what I found was, the software available to me didn't work well on me until I literally wore a white mask. To see that my face did not fit the norm, or, rather, that a white mask was more the norm than I was, was a pivotal moment for me.
We were supposed to be at the forefront of what's next with technology, and then to be confronted with exclusion in a way that I hadn't expected—putting a white mask into the scene, and so erasing who I was to conform into a norm that's not reflective of me. What has been conditioned, to be seen as viable and to be visible, was what piqued my interest in learning more about why I was having this experience.
Part of why I started the Algorithmic Justice League was to sound the alarm, but also to say, "What is the alternative way?" We don't believe in naming a shaming. We believe in naming and changing. We say, "Here are ways to address the issue so that we can actually realize the promises of AI without succumbing to the perils." So it's not to say AI is good or bad. It's to say, "What kind of AI systems enable the societies we want?"
The progress we made for civil rights, women's rights, disability rights—so many people put themselves on the line so that there can be a more equal society
and it's still a work in progress. If we do nothing, all the progress we've made can be erased under the guise of machine neutrality. So, now, I don't have to have the racist hiring manager, you can put the algorithm there instead.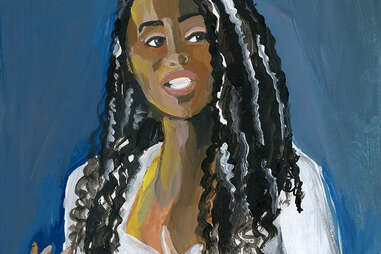 5. Jamira Burley, the founder of GenYNOT, and a social justice activist.
Violence is often a much deeper, systematic problem. Over the last fifteen years, I've been on this journey of really trying to understand what are those systematic problems, and who are the people at the center of tragedy, who also could be at the center of change.
I was lucky. If I think about the trajectory of my life, every opportunity, every mentor, every person I've come in contact with, it has been a series of fortunate events—work, too—that can only be attributed to luck. However, I want to create a world where young people don't have to be lucky in order to get access to resources and opportunities, to voice their concerns or ideas, or for others to see them as being worthy of being listened to.
Every woman who has helped me along this path has defined how I show up. I think women not only see issues differently from men, but more importantly, we're willing to share space differently.
My experience is just one. It might be indicative of other youth experiences around the country, but there are nuances to every single issue that impacts young people. The more voices we have at the table, the more we can really think about how solutions can benefit those who are at the margin.
I think that people are asking more questions now, looking more internally to themselves and their communities, and thinking about intersectionality beyond their own individual experience; and that leads to a much deeper conversation around having empathy, around justice, and asking what could the future actually have in store for us.
6. Samar Minallah Khan, anthropologist- turned-filmmaker-turned-human rights defender.
With time, I realized my anger wasn't helping me; so, I had to completely change my strategy. In order to address resistance, I had to just sit and listen to people who were resisting my mindset or what I was showing in my films. That's where my background in anthropology really helped, because we're trained not to judge people, but to just listen, experience and understand where they are coming from. That listening helped me make new alliances. Even in Pakistan, if you're living in a city, you don't know what's happening in rural areas. I had to step out of my comfort zone to understand how and why certain harmful traditions and culturally sanctioned forms of violence against women and girls were taking place. I wanted to experience it with my own camera. I wanted to hear the women and girls myself.
I think that when I realized that a film has the power to change people's mindsets, that in itself was a very empowering feeling—to realize that film can not only move people, but it can move us into action.
I've evolved as a leader. I've become more patient, and I've realized that the more love I give to my work, the more comes out of it. Instead of starting off with fear—which was always there and which will always remain because of the kind of issues I work on—I've realized that when I turn that feeling into positivity, into envisioning what can actually come out of the steps I'm taking, it completely changes my entire outlook and the way I lead.
Alyse Nelson is President and CEO of Vital Voices Global Partnership, an organization that invests in women leaders solving the world's greatest challenges. A co-founder of Vital Voices, she has worked with the organization for more than two decades.