How This Women's Org Is Making Sure "Ladies Get Paid" In A Hard-Hit Economy
Ladies Get Paid has had to adjust its operations because of the coronavirus, but is still creating ways to help women achieve their professional goals.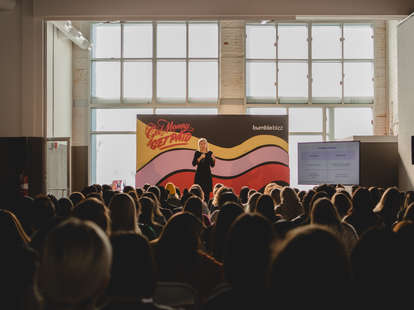 Seher Sikandar / Ladies Get Paid's Get Money Get Paid Conference
The coronavirus has left historic numbers of people unemployed, especially in fields dominated by women. Amid wider uncertainty, organizations that focus on career development, including Ladies Get Paid, are adapting their efforts to meet people where they are.
Claire Wasserman founded Ladies Get Paid in 2016 to help women pursue the careers and salaries they deserve. Along with events, workshops, and job postings, the New York-based organization operates a private online network of thousands of women from around the world. People can sign up for free to access advice, share career resources, or connect about issues they face in the workplace.
"Fortunately we've always done webinars and we've had a Slack group since day one and we have over 75,000 women communicate that way," Wasserman told NowThis. "So, as a business, our members are used to connecting online."
The organization also has a library of informational videos called the Ladies Get Paid Institute of Higher Earning, which features well-known working women offering tips on everything from managing debt or negotiating your salary. And though accessing the library would normally require a monthly subscription of $9 or annual subscription of $95, the company is allowing women who have been laid off or have had their incomes reduced as a result of the virus to access it for free.
In lieu of networking events, which are a cornerstone of her brand, Wasserman has also been hosting online chats called BYOLs (which stands for Bring Your Own Lunch) to connect with members via video chat and answer questions they've sent in. Many of the questions submitted have unsurprisingly been about dealing with layoffs, continuing on career paths in an unstable economy, and navigating the work from home environment.
"At some point, everybody's looking for a new job," Wasserman said, "And at some point, most companies have to take a step back and reflect on their business model and that's just all of a sudden happening to everybody right now. So that's also been interesting too, on my end, getting all of those questions and seeing the patterns and the overlaps."
To help women-owned businesses that may be struggling as a result of the virus, Ladies Get Paid has also partnered with the Female Founder Collective Speaker to create Support Your Ladies, a directory of women-owned businesses that people can browse, share, and support.
The shutdowns nationwide designed to curb the spread of the virus have led to record-breaking unemployment numbers—and women have been more affected. According to March data from the Department of Labor, the unemployment rate for women increased by 0.9%, compared to 0.7% for men. A recent Pew Research Center report also found that women and minorities are overrepresented in industries at high risk of layoffs, such as retail, hospitality, recreation, and manufacturing.
The virus has also led to an increase in domestic violence reports, as many people are now forced to be isolated with their partners. Because of this, Ladies Get Paid donated $1 of each Institute of Higher Earning subscription to the National Domestic Violence Hotline during the month of April.
Learn more about Ladies Get Paid and the organization's many resources on their website.