How Women Absolutely Ruled In 2019
2019 was a BIG year for women!
Hi there! I'm Sari Soffer, Supervising Producer at NowThis and lead producer of "Her Stories," our series about modern women change-makers. (You might have also seen me here writing this newsletter.) But today I'm bringing you a special edition of KnowThis to celebrate the year in women's gains (despite some losses). 2019 was a big one for women in power positions, and we got some pretty sweet films to celebrate womanhood. Cheers to that, and many more in 2020!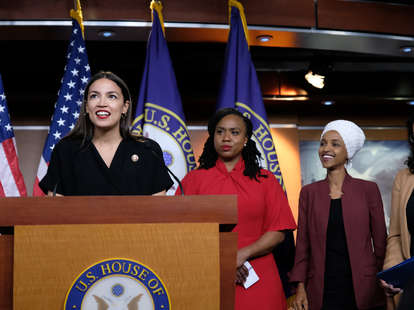 Women Took Down The House (And Senate) In 2019
2019 kicked off with a record number of women taking office in the United States' 116th Congress. Women now make up 23% of the House of Representatives and 25% of the Senate. Thanks to historic midterm elections in 2018, women now also comprise 29% of all state lawmakers nationwide. (Although, I think other states should follow Nevada's lead, which just became the first state with a majority women legislature.) Wins in the U.S. House also helped bring Nancy Pelosi back behind the gavel as Speaker – arguably becoming one of the most powerful women in the country – who would ultimately do the honors of formally announcing the impeachment inquiry into the President later in the year. Plus, 2019 brought us The Squad, and we'll never stop being grateful for them.

Meanwhile, the bid for U.S. president got a much-needed glow-up, with six women at one point running for the highest office in the 2020 election. That resulted in real discussions about women's issues getting air time during debates. Unfortunately, the number of women running for the Democratic nominee has dropped to four, and the pool of candidates became much more white and male when Sen. Kamala Harris dropped out of the race due to campaign finance struggles (in addition to many other less tangible challenges exclusively faced by women and people of color). During one of the debates, Harris urged Democrats to stop taking Black women for granted. Now, Harris will shift her focus back to the Senate ahead of the impeachment trial next year.
Know This: Although women made significant gains in political leadership positions around the country in 2019, the year saw many really scary challenges to women's rights. States like Georgia, Arkansas, and Mississippi passed some of the most restrictive abortion laws in the country. Here's why those laws are actually like abortion bans, and here's an explainer about how their goal is to challenge Roe v. Wade for the entire country. Many of those states have the lowest representation of women in office.
The Award Goes To… Women, Period.
2019 began with an epic award season, filled with inspiring speeches by brave and glamorous women. Never forget Alex Borstein's message to "step out of line, ladies" during her Emmys acceptance for Outstanding Supporting Actress in "Marvelous Mrs. Maisel." She was referencing her grandmother, a Holocaust survivor who stepped out of line when an officer was about to shoot her. And Phoebe Waller-Bridge of "Fleabag" who spoke to so many women when she said at the Emmys, "It's just really wonderful to know and reassuring that dirty, pervy, angry, messed up women can make it to the Emmys" (preeeeaaach). Then there was Olivia Colman accepting Best Actress for "The Favourite" at the Oscars, while encouraging "any little girl who's practicing their speech on the telly, you never know!"

On-screen, some of the year's most talked-about films centered around the experiences of women and girls, including "Booksmart" – a story about two teens' quest to get laid before college, directed by Olivia Wilde. (And no, it's not the "girl version of Superbad" It's our own thing, and we needed it.) Similarly on the small screen, we got "Pen15," which (finally) authentically explores what it's like to be a prepubescent middle school girl. Some other notably empowered women-centric TV/films of 2019 (in no apparent order): "Shrill," "Hustlers," "Little," "Late Night," "The Morning Show," "Bombshell," and "Little Women."
Know This: 2019 was also the year we said goodbye to one of the most epic and generation-defining buddy comedies for, by, and about women: "Broad City." You are forever our ~yas queens,~ Ilana and Abbi.
She-E-Os In Record Numbers
Women now hold a record number of CEO positions in the Fortune 500 in 2019. That's cause for celebration (even if it is only 6.6% of the total companies on the list). One expert attributes the growth to the fact that women now account for approximately 26% of board members of Fortune 500 companies. "We are seeing women and minorities on boards ticking up, and boards have a lot to do with who becomes CEOs," said Lorraine Hariton, CEO of Catalyst, a nonprofit consulting and research firm focused on women in the workplace (also check out all the graphs in that link for a shocking portrayal of just how far we've come). Catalyst also reported that 29% – the highest amount ever – of senior management roles globally were held by women in 2019 (still not 50% though). In the U.S., white women held approximately a third of management positions, but representation among women of color was as low as 6% for Latinas, 4% for Black women and 2% for Asian women. And don't even get us started on the wage gap.
Know This: We spoke to the CEO of Lean In, which did a study that shows women are less likely to get promotions, despite asking for them. She calls this the "broken rung" and says fixing it is crucial for putting women in power.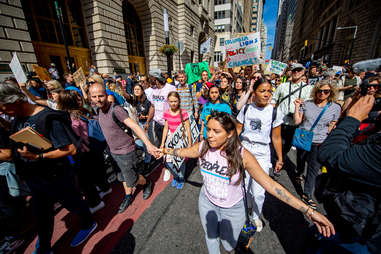 Women And Girls Broke Ground On Fighting The Climate Crisis
And no, we're not just talking about Greta Thunberg (Time's 2019 Person of the Year!)...although, I guess we'll start there. The Swedish 16-year-old launched a global youth movement by staging a one-woman protest outside her country's parliament, which inspired other young people to do the same. In 2019, we subsequently saw at least four massive Global Climate Strikes around the world, culminating in 7.6 million people striking ahead of the UN Climate Summit in New York City in September, according to organizers. One thing we've noticed is that many of the local leaders of these demonstrations have been women and girls, and so were a majority of speakers at the UN Climate Summit and first-ever UN Youth Climate Summit. Coincidence? I think not. The UN has compiled many compelling reasons why climate change is a women's issue.
Know This: Women have also been at the forefront of conversations around the environmental impact of fast fashion. We spoke to an Indigenous fashion designer for our series "Her Stories" who is making ethical clothing for an increasingly-conscious demographic.
Playing Like A Girl — And Winning
The U.S. Women's National Team won the 2019 FIFA Women's World Cup in Paris. It was far from their first win – they have the most wins of any international women's soccer team with 4 World Cup wins and 4 Olympic wins – but it was their first win amidst the gender discrimination lawsuit against the U.S. Soccer Federation. U.S. women's soccer players are paid $31,250 less than men for making the World Cup. We traveled to Paris this summer to talk to women athletes about how the fight for gender equity started, and how it has spread across sports. It's a conversation many of the most prominent women athletes are not shying away from.
Know This: One of the most outspoken players on the U.S. Soccer Team, Megan Rapinoe, also became the first openly gay woman to pose for the Sports Illustrated Swimsuit Issue. We know, wildly overdue, but worth celebrating nonetheless.

Of course, these are just the highlights from my point of view. So many women have done so many amazing things over this past year (we couldn't even get to Lizzo!). We'd love to hear what feminist gains most excited you this year. Feel free to email, and Happy New Year ladiezzzz (and allies).

-Sari Soffer, Supervising Producer, NowThis