Protests Held On Int'l Day for Elimination of Violence Against Women
Some parts of the world celebrated new policies protecting women, while others demanded that the government do more.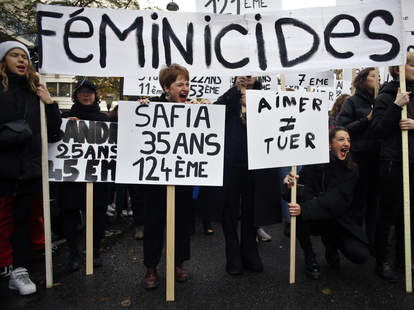 People around the world marched on Tuesday for the International Day for Elimination of Violence Against Women, demanding justice and action.
In 1999, the United Nations General Assembly designated the day to highlight the scale and severity of global violence against women. The date was chosen based on the 1960 assassination day of the Mirabal Sisters, who were activists in the Dominican Republic. A theme is chosen each year, and 2019's was "Orange the World: Generation Equality Stands Against Rape".
 
Many protests took place in Latin America, where the UN says 12 women are killed as a result of femicide daily. In Mexico City, women clashed with armed forces, calling for the government to do more about the persistent gender-based violence problem. In Chile and Argentina, women marched with painted handprints over their mouths.
 
Europe also saw plenty of demonstrations. In Brussels, pairs of red-painted shoes were placed on the ground to represent victims of violence. A Senate building in Italy was also illuminated in red in honor of the day. Large demonstrations were also held in Spain and France, with French women writing "stop" and "138" on their hands to represent the number of women who have been killed by their partners and ex-partners in the country this year.
 
In Sudan, women celebrated a victory against femicide with the launch of the Unit to Combat Violence Against Women and Children. Johannesburg and Istanbul also marched against gender-based violence.
 
According to the UN, approximately 87,000 women and girls were killed across the world in 2017.