Victoria's Secret Cancels its Annual Fashion Show
The show will not happen for the first time since its inception in 1995, after reports of falling sales and viewers.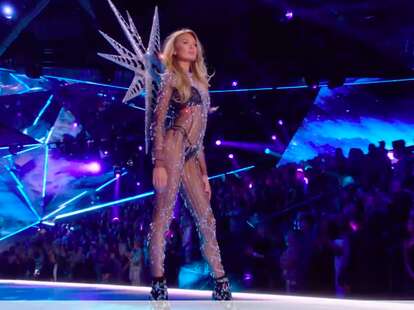 The controversial Victoria's Secret fashion show has been cancelled for 2019 amidst falling ratings and backlash against the company.
L Brands, the parent company of Victoria's Secret, announced Thursday that it would not be holding their annual fashion show this year. It will be the first time since the show's inception in 1995.
CFO Stuart Burgdoerfer said that the cancellation comes as the company starts to "evolve the marketing of Victoria's Secret."
For months, the show's future has been speculated about, after a major decrease in viewers during the 2018 show, which dropped to 3.3 million from 5 million in 2017, coupled with years-long controversy surrounding their poor representation of most women's bodies. In 2018, then—chief marketing officer for L Brands, Ed Razek also stepped down for his comments about not putting trans or plus-size models in his show "because the show is a fantasy."
The show has made a name for itself for catapulting models into superstardom and featuring household names like Tyra Banks, Naomi Campbell, Gisele Bündchen, Adriana Lima, and Heidi Klum. In the last decade, the show expanded past just lingerie and hosted a myriad of performances from some of the biggest names in the music industry.
But a recent shift in the fashion industry, from critics calling for more inclusivity in runway shows, has forced a change at Victoria's Secret.
"[The show] was a very important part of the brand building of this business and was an important aspect of the brand and a remarkable marketing achievement," Burgdoerfer said. "We're figuring out how to advance the positioning of the brand and best communicate that to customers."
In lieu of the 2019 fashion show, Victoria's Secret announced that it will put on a show for the holidays that will be similar in magnitude.