How an Afro Latina Entrepreneur Turned Her Small Plant Shop Into So Much More
By tapping into the needs of plant parents, Shayla Cabrera was able to turn Tiaplanta into a thriving business. Presented by Adobe Express.
Shayla Cabrera has taken her love of plants and turned it into a flourishing business, Tiaplanta.
"Tiaplanta is a plant shop that is rooted in community, diversity, and education," Cabrera told NowThis. "And it's something that we live every single day, whether it's providing workshops, coming into our co-working space, corporate maintenance."
Her business' name, which honors her Afro Latina heritage, translates to "plant aunt." She started Tiaplanta in June 2020 out of a small kiosk that was once occupied by the Jersey City Police Department.
She correctly predicted the houseplant industry was going to sprout during the pandemic, but was also prepared for the rapid growth to slow over time. Her first brick-and-mortar location in the kiosk had no running water or electricity, which made it tricky to care for a storefront full of plants.
"I knew that we were taking losses. I was studying the profit sheets and just understanding that we needed to make a change in the business," she said. "I then saw where the most profit was being made in terms of services and the amount of effort that I was putting in with my time. And I realized that we had greater profit margins when I could just be in a place and share my knowledge, whereas selling individual houseplants came with a lot more work and less revenue."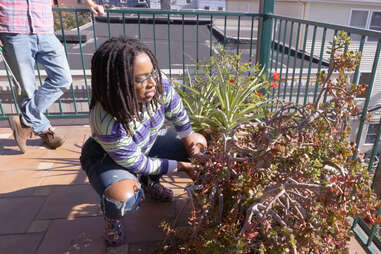 Cabrera pivoted her business and created multiple revenue streams with plant styling, consultations, and workshops. "As we've seen these streams of services grow, they've not ended. In fact, it's become more busy because what I also noticed is everyone that had all of these houseplants needed a little bit of extra help in how to take care of them," she said. "So now that these people had these really large plant collections, I could come in and kind of set them up for long-term success with their plants. So in actuality, it did pay off, and the plants that I sold people, I got to come back and see all over again."
She encourages other entrepreneurs to be nimble in approaching the many unforeseen challenges that come with running a business. By letting go of her idea of what a houseplant business looks like, she was able to innovate and create a whole new business model.
"You have to believe in yourself, believe in your dream," she said.