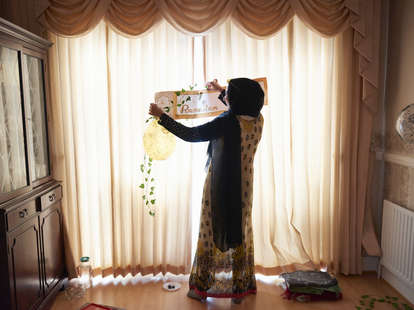 Let's be real — cooking and eating has been an activity most of us have indulged in while in quarantine. But those observing Ramadan probably won't want to spend too much of the day around food. Below are a few ideas to keep your mind off of your stomach while you're stuck at home:
Get your body moving
If you're stuck inside all day and busy with work, take some time to stretch. It'll help with your range of motion, flexibility, and muscle tightness, especially if you've been sitting for long periods of time. Take a walk or a light jog or try some low-intensity cardio, either after eating suhoor or before you break your fast, because working out in the middle of the day without food will be hard on your body.
Make sure not to push yourself; you know your body's limits. Fitness professional and nutritionist Zainab Ismail has a great Ramadan beginner's workout to get you started.
Grow some plant babies
Use your own plants for your suhoor and iftar meals. Start an herb garden by calling your local plant nursery, grocery store, or gardening center to pick up seeds and cuttings of herbs, plus some potting mix and trays. Good Housekeeping has some great tips.
You can also regrow food from kitchen scraps. Lettuce, celery, and scallions can be regrown in a cup or jar of water with leftover bases and roots. Carrot, beet, and onion tops can be placed in a tray of water before being moved into soil.
Battle it out with friends and family
Pull out those dusty board games, cards, and puzzles to keep yourself occupied. And if you're alone, go virtual! Play a multiplayer video game, participate in a communal puzzle online, and redownload Words With Friends. It'll make the time go by quickly.
Pick up a new skill
Juggling? Origami? Sketching? There's probably a YouTube tutorial for that. Try something fun and get your creative juices flowing.
Immerse yourself in the world
It's prime time to get your brain out of the 24-hour news cycle and into the rest of the world around you, whether it's listening to a podcast like NPR's Throughline, reading the Quran and some new books, or going down a Wikipedia rabbit hole (my latest was on the singer Aaliyah).
You can also literally immerse yourself in nature. The Night Sky app works like a planetarium in your pocket for your evening stroll and stargazing, and the Audubon Society has a bird guide app (of course). If you know where you're headed on your outdoor journey, you could even leave your phone behind to clear your head.
Host virtual get-togethers
Ramadan in quarantine means none of us are going to the mosque, attending community iftars, or going out with friends to IHOP for suhoor. But that doesn't mean we need to celebrate alone.
Call your neighbors from outside their windows to check in on them! Video chat with loved ones, those who are parents, those who are alone, and those who are converts. This is a special time of year, so make it special.
Freshen up your living space
Growing up, my family spent time cleaning the house in preparation for Eid day. But this year, we might as well start early while we're stuck at home anyway.
Get some deep, spring cleaning in by emptying your closets, those junk drawers, and moving your winter clothes aside. You can also use thredUP's donation clean-out kit to make it easier. Shift your furniture around, open some windows, and maybe get to that painting or DIY project you've been holding out on.
Take advantage of spiritual sessions
If you like spending time with your local community during Ramadan, there are many options to partake in online. Mosques and organizations around the U.S. are putting together virtual classes, lectures, halaqas, and community prayers that you can join from home.
I've already tuned into the Islamic Center at NYU's live dua sessions during quarantine, and they're offering tons more programming throughout the month. MPower Change, a grassroots advocacy group, just launched #DigitalRamadan, a huge guide for virtual activities, mental health resources, Quran and hadith resources, political organizing how-tos, and online iftars.
Take a nap
There's nothing wrong with the tried and true method of taking a midday siesta. And if you're working from home, take a 15-minute power nap in between your Zoom calls — no one will ever know.
Break your fast online
Plan a virtual iftar with your family and friends. Sit down and break your fast with them while on your phone, tablet, or computer.
You can also spice it up with a virtual cooking session. As you prep your suhoor and iftar meals, video chat with someone and swap recipes — we all love a good iftar potluck, so share your food with the people who mean the most to you.
Reflect
Ramadan looks really different this year. Many of us are cooped up at home, working in essential businesses, or fighting at the front lines. Many of us know someone who's contracted COVID-19. Many of us are grieving over lives lost.
No matter the circumstance, Ramadan allows each and every one of us a time of reflection on ourselves, our relationship with God, and our connections to one another. Pray, meditate, write in a journal — do what you can to reflect during this month of blessing. "Verily, with every hardship comes ease." (Quran 94:5)
Ramadan Mubarak to all of you!