13 Men Charged In Alleged Militia Plot To Kidnap Gov. Gretchen Whitmer
The FBI said it thwarted individuals with ties to a militia group who were plotting a violent government overthrow, which involved firearms training, combat drills and surveillance of the Michigan governor's vacation home.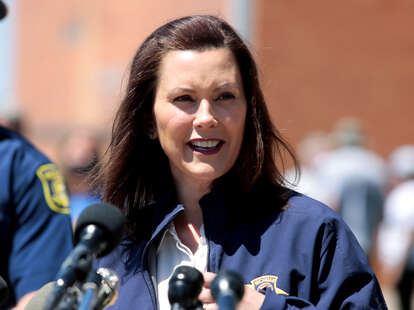 The FBI said it thwarted individuals with ties to a militia group who were plotting a violent government overthrow, which involved kidnapping Michigan Gov. Gretchen Whitmer before the November election, according to government officials and an affidavit unsealed in federal court Thursday.
At least six men have been charged with conspiracy to kidnap in connection to the plot, which was detailed in the affidavit first reported by the Detroit News.
The men charged were identified as Adam Fox, Barry Croft, Ty Garbin, Kaleb Franks, Daniel Harris and Brandon Caserta. During a press conference Thursday, Andrew Birge, the U.S. Attorney for the Western District of Michigan, called the plotters "violent extremists." Birge said that alleged plotters were arrested on Wednesday.
The Michigan Attorney General's office on Thursday announced 19 felony charges under Michigan's anti-terrorism law against seven other people who are members of the "Wolverine Watchmen" militia group or who have ties to the group.
According to a press release from the AG's office, "The suspects, now under arrest, are alleged to have called on the groups' members to identify the home addresses of law enforcement officers in order to target them; made threats of violence to instigate a civil war leading to societal collapse; and engaged in the planning and training for an operation to attack the state Capitol building and kidnap government officials, including Gov. Gretchen Whitmer."
The affidavit alleges that the FBI first became aware that a group that included Croft and Fox were "discussing the violent overthrow of certain government and law-enforcement components," earlier this year on social media.
Members of the group, who met in person in Dublin, Ohio as early as June discussed "creating a society that followed the U.S. Bill of Rights and where they could be self sufficient," according to the affidavit. The group was motivated by a belief that state governments, including Michigan's, were violating the U.S. Constitution, according to the affidavit. The FBI said the group then decided that it needed to increase their numbers, and reached out to a Michigan-based militia group, but that group was not specified.
The affidavit alleged that a confidential source attended and recorded other meetings and discussions by members in the following months. Discussions involved firearms training and other combat drills, members also discussed "200 men" storming the state Capitol building in Lansing, Michigan, and taking hostages, including Gov. Whitmer, the affidavit said.
The affidavit also alleges that conspirators twice conducted surveillance at Whitmer's vacation home and discussed kidnapping her to a remote location in Wisconsin for "trial."
"A threat against our Governor is a threat against us all," Michigan Senate Majority Leader Mike Shirkey (R) tweeted Wednesday. "We condemn those who plotted against her and our government. They are not patriots. There is no honor in their actions. They are criminals and traitors, and they should be prosecuted to the fullest extent of the law."
Gov. Whitmer, a Democrat, established and enforced stringent measures meant to quell the spread of the coronavirus earlier this year, which drew backlash from right-wing locals and led hundreds of protesters, some of whom were armed, to surround the state capitol in opposition of the measures.
When asked about the aggressive opposition she's experienced during a June interview with NowThis, Whitmer said, "We all—the girls and my husband and I—would look out the window and see that armed gunmen were standing outside protesting me just outside of our residence. My girls have seen the vile violence and threats that our people are making online and that are covered in the newspapers."
"I mean, it's a sad part of the reality of this political climate that we are in right now. And the fact of the matter is, it's not going to change the work that I'm doing," Whitmer continued. "I'm going to stay tethered to the science and to the facts and do the next right thing. I won't be bullied, be it tweet or protest or threat online, into not doing what I know to be the right thing to do."
President Trump has repeatedly attacked Whitmer's leadership, and spoke against Michigan's coronavirus restrictions in April, tweeting, "LIBERATE MICHIGAN!"
In a Thursday response to the charges, Whitmer said, "You don't have to agree with me, but never forget that we are all in this together. Let's show a little kindness and a lot more empathy."