130+ Secret Service Officers Reportedly Exposed To Or Infected With COVID-19
"Unforgivable to put Secret Service and other White House support staff at risk like this" — A Washington Post report claims more than 130 Secret Service members have either tested positive for COVID-19, or are in quarantine after coming into contact with the virus.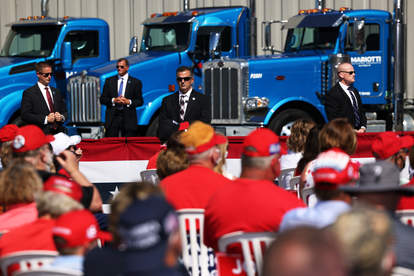 A bombshell report by The Washington Post says that more than 130 Secret Service officers who work for President Trump have either contracted COVID-19 or are quarantining because of close contact with people who tested positive.
The Post published the report on Friday citing three anonymous sources familiar with the situation who believe the outbreak is linked to Trump's campaigning in the final months of the election. Trump continued on the campaign trail with rallies filled with crowds of people not wearing masks — even after the president himself and the first lady tested positive for COVID-19 in early October. The Post reported that nearly 10% of the Secret Service "core security team" have been affected.
The White House and representatives for the Secret Service have not publicly commented on the report.
After Trump was confirmed to have COVID-19 last month, he was shown leaving Walter Reed medical center to take a ride in a black SUV —surrounded by Secret Service members — to wave to supporters, even though he was symptomatic and being treated at the hospital at the time. Medical experts and even an anonymous Secret Service agent condemned Trump's "joyride" as "completely unnecessary."
Earlier this week, several White House aides were confirmed to have tested positive for COVID-19, including Secretary of Housing and Urban Development Ben Carson, Chief of Staff Mark Meadows, and political advisers Corey Lewandowski and David Bossie. Carson attended a White House Election Day gathering that took place indoors with hundreds of other guests. This is the second event that has been linked to an outbreak within Trump's close circle; the first was a Rose Garden ceremony when Trump nominated Justice Amy Coney Barrett for the Supreme Court.
A study conducted by researchers at Stanford University and published at the end of October found that Trump's rallies "likely" led to more than 30,000 new cases of COVID-19 and nearly 700 deaths. The study said the virus was likely spread by attendees who then spread the virus to others afterward.
The report of Trump's Secret Service outbreak comes as the U.S. experiences an unprecedented spike in new COVID-19 cases nationwide. According to Johns Hopkins University, the U.S. reported more than 153,000 new cases on Thursday — a new record since the pandemic began in March.
The mayor of Chicago on Friday reissued a stay-at-home advisory as cases increased in Illinois and the midwest, calling on residents to stay home as much as possible and to cancel any Thanksgiving plans with people outside their household.
After the Post report was published Friday, several people condemned the president for putting his staff at risk, calling it "cruel" and "unforgivable."