178 Texas Hospital Employees At Risk Of Losing Jobs For Not Getting COVID-19 Vaccine
Employers can legally require employees to be vaccinated for in-person work under federal guidelines.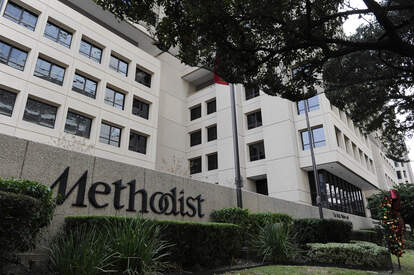 A hospital system in Houston, Texas has suspended 178 of its employees who did not get fully vaccinated against COVID-19 by a certain deadline. Some employees have revolted against the mandate by leaving their jobs and backing a lawsuit against the medical system.
Houston Methodist CEO Marc Boom wrote in an internal memo obtained by The Washington Post on Monday that nearly 25,000 employees had been fully vaccinated by the June 7 deadline. A remaining 178 employees who were not granted medical or religious exemptions have not been fully vaccinated, and were as a result suspended without pay for 14 days. Boom reportedly said of those 178 employees, 27 have received at least one dose of a two-dose vaccine. According to multiple outlets, employees who were suspended will later be terminated if they don't get vaccinated by June 21.
Boom recognized the "remarkable accomplishment" of the overwhelming majority of employees getting vaccinated in his memo.
"I know that today may be difficult for some who are sad about losing a colleague who's decided to not get vaccinated," Boom continued in his memo. "We only wish them well and thank them for their past service to our community, and we must respect the decision they made."
More than 200 employees were granted exemptions from getting vaccinated, while 332 were granted deferrals due to pregnancy or other reasons, Boom said.
Houston Methodist attracted pushback from employees after becoming one of the first hospital systems in the U.S. to mandate they get vaccinated. More than 100 employees, including registered nurse Jennifer Bridges, who was one of the employees suspended, filed a lawsuit against Houston Methodist over the vaccine requirement. In a GoFundMe Bridges set up to pay for the lawsuit, she said employees are "asking for more time, proper research, and fully FDA approved before injecting it into our bodies."
"Methodist Hospital is forcing its employees to be human 'guinea pigs' as a condition for continued employment," the lawsuit claims, according to The Post. It also referred to the vaccine as an "experimental COVID-19 mRNA gene modification injection."
Boom and other experts have denounced conservative activists classifying the vaccines as experimental, as scientists have been studying the molecule mRNA for decades.
"The mRNA technology behind the Pfizer and Moderna vaccines isn't new or experimental," Boom wrote. "It's been around for many years. With more than 300 million doses distributed in the United States alone, the vaccines have proven to be extremely safe. The number of both positive cases and hospitalizations continue to drop around the country, too, proving the vaccines' efficacy."
Bridges told The Post that she is "not anti-vaccine" but feels "you should have a right to choose what you put in your body."
On Monday, employees walked out of Houston Methodist Baytown Hospital and gathered to protest the vaccine mandate.
"I cried the whole way out," Bridges told KHOU. "If I have to eat ramen noodles for ;two months, I don't care because my health, my family is more important than money and this job."
According to recent guidance from the U.S. Equal Employment Opportunity Commission (EEOC), employers have the right to require employees to be vaccinated against COVID-19 for in-person work. The guidance also said employers can legally mandate proof of vaccination from employees and can provide vaccine incentives. Major airlines including Delta and United have announced they will only hire vaccinated employees.