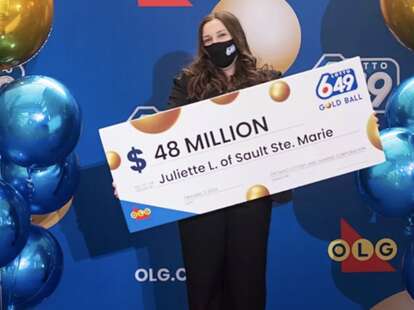 Photo Credit: Ontario Lottery and Gaming Corporation
Photo Credit: Ontario Lottery and Gaming Corporation
Some might call it beginner's luck, but an 18-year-old in Canada is now a millionaire after purchasing her first legal lottery ticket ever.
Juliette Lamour won $48 million CAD (approx $36 million USD) in the Lotto 6/49 Gold Ball jackpot last month and was recently presented with the winning check. The Ontario Lottery and Gaming Corporation deemed her the "youngest winner in Canadian lottery history" to ever win a jackpot that big.
Lamour said that her grandfather suggested she purchase a lottery ticket for fun after turning 18. She listened to him and later learned that she won the jackpot while at work.
"My colleague fell to his knees in disbelief. He was screaming, in fact everyone was screaming that I had won $48 million," Lamour said in a press release. "At first, I didn't understand what was going on. I couldn't take in the news. We made quite a scene in the store that day."
The now-millionaire said that she will invest some of the money, use some of it for medical school, and treat herself and her family to a trip.