20 Years After 9/11, A Blind Survivor Recalls His Narrow Escape
Michael Hingson walked down 78 floors of the World Trade Center with the help of his guide dog during the tragic attacks.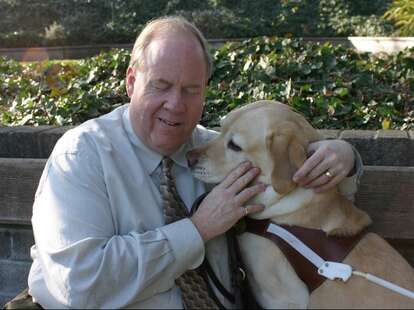 When Michael Hingson's company moved into the 78th floor of the World Trade Center in 2000, he knew that as a blind person, he'd have to learn as much as he could about the building in case of an emergency.
"I love to focus on details. For me, information is important," Hingson said in an interview with NowThis. "I developed a mindset that gave me all the information that I would need in the case of an emergency and I knew how to use that," Hingson said in reference to his lifelong blindness, which he believes has improved his capacity for logical thinking to navigate the condition's obstacles.
The details Hingson focused on are what kept him from panicking on September 11, 2001, when he had to walk down 78 floors with his guide dog, Roselle, after terrorists crashed two planes into the World Trade Center.
At the time, Hingson worked for a computer company called Quantum Corporation in the North Tower. On that September morning, Hingson was in his office with his colleague, David Frank, preparing to give a seminar. At around 8:45 a.m., as their guests waited in another area of the building, Hingson and Frank heard the crash.
"We heard a muffled explosion and the building kind of shuttered," he said. "It just began to tip and tip and tip in one direction… We moved like maybe 20 feet."
Both Hingson and Frank held on to what they could, not knowing what had just happened. American Airlines flight 767 had crashed into the 96th floor of Tower 1 — 18 floors above Hingson's office.
"We had no idea what had happened," Hingson said.
As the building was tipped to the side, Hingson recalls he and Frank "almost said goodbye to each other" because they thought the building was falling down.
"That's when it stopped and started moving back into place and made a drop of about six feet," Hingson said. "I remember letting out my breath because I didn't even know I was holding it," he said.
Frank started shouting that there was fire and smoke above them and began to panic. But Hingson said he knew they needed to stay calm in order to survive. At the time, his guide dog wasn't giving any immediate indication of danger and was calmly sitting next to him.
"That told me more than anything that whatever was occurring wasn't such imminent danger to us that we had to run in terror out of our offices and get to the stairs and go down," Hingson continued.
Hingson told Frank to round up everyone in the office and directed them to the stairs. When he called his wife Karen who was at their home in New Jersey, she hadn't even heard about it yet.
After making sure the office was clear, Hingson and Frank made their way to the stairs where others were exiting. Hingson said he immediately smelled an odor, and that he and the others going down the stairs realized it was burning jet fuel. That was when they put the pieces together:
"We figured out an airplane hit the building," he said.
As they kept moving down the stairs, a woman behind him stopped and said she couldn't breathe and wouldn't be able to make it down.
"Eight or nine of us just stopped on the stairs and had a group hug right there," Hingson said. "Instinctively, I think everyone knew we had to keep panic away from all of us. We had to focus and work together. Because if there was panic on the stairs, none of us would have made it out."
When panic set in for his colleague Frank, they still had about 50 floors to go. Frank decided to move down quickly to the next floor and shout up to Hingson what he was seeing as a way to distract himself.
"Thousands of people heard this guy yelling, '46th floor, all ok!' and knew someone, somewhere in the building was ok. That had to keep a lot of panic from happening on the stairs," Hingson said.
When Hingson finally reached the bottom, first responders were blocking people from leaving through the main exit and directed them to go through the World Trade Center complex, which was made up of several buildings, to get away from the towers.
"As we now know, that was because people were jumping and we could have gone outside and been hit by someone or other people would have seen things," Hingson said.
At one point while they were in the staircase, the second plane crashed into the South Tower but they didn't hear or feel anything. As the two walked with the crowd away from the towers, they stopped just blocks away to take pictures. That's when the South Tower began to collapse.
"We heard this rumbling noise that I describe as kind of a freight train in a waterfall. You could hear glass breaking and metal clattering and just white noise as the building just pancaked down," Hingson said. "Everyone just turned and ran."
With the help of touching nearby buildings and his guide dog, Hingson was able to safely run away from the crashing building. Everyone in the area was then hit with the infamous cloud of debris that blanketed lower Manhattan.
"The dust was so thick that with every breath I took, I could feel stuff going down my throat and settling in my lungs," he continued.
Hingson and Frank went down into the nearby Fulton Street subway station with others to take cover. After leaving the subway station, they continued walking when the second tower fell.
"We moved to the side because the dust cloud was pretty concentrated. We stood up and turned around and Frank said, 'Oh my god, Mike, there's no World Trade Center anymore.'"
At around 10:32 a.m., Hingson was able to call his wife, which is how he learned that terrorists had crashed planes into both towers, the Pentagon, and had hijacked another plane that was still somewhere over Pennsylvania. They would later discover that Flight 93 crashed in a rural part of Pennsylvania, killing everyone on board.
The city had shut down almost all public transportation around the times of the attacks as a precaution, and Hingson said it wasn't until the late afternoon when he could finally take the New Jersey Transit out of Manhattan and back home.
"All I knew was at least I'm home with my wife, so that was a relief," he said.
Moving forward, 20 years later
As the U.S. crosses the 20th anniversary of the horrific attacks, Hingson reflects on what he's learned from his traumatic experience — wisdom he's imparted to others. He retold his escape story in a book called "Thunder Dog," which is about his journey and connection with Roselle, who died in 2011. Hingson also works as a lecturer worldwide and as the chief vision officer for an accessibility company called AccesiBe.
Hingson said that he realized only recently how essential it was that he was able to manage his fear on 9/11. Now, he's teaching people how to cope with their fears in dire situations.
"When there is an emergency, fear isn't going to blind me," Hingson said. "I know that that sounds like a pun."
"Fear is a very important tool," he continued. "But you can control it. And what happened to me on September 11 was that I learned how to control it."
Hingson also highlighted that being blind his entire life did not cause him to feel afraid of going out in the world.
"The problem is that people think if you can't see, you can't do stuff. That eyesight's the only game in town. And that's where their limitations start," he said. "So for me, all of that is just kind of part of my makeup and what drove me to be prepared on September 11, 2001."
While narrowly escaping the World Trade Center and running as the buildings collapsed, Hingson said he had a distinct realization that kept him going that day that has stuck with him.
"When Tower 2 collapsed… I heard a voice in my head as clearly as you hear me that said, 'Don't worry about what you can't control. Focus on running with Roselle and the rest will take care of itself.' And I had this sense of peace that we'd be ok if we worked together. And that's a lesson I learned and it's a lesson I try to pass on."