2020 Was The Year Black People Saved Everyone, Including Themselves
The movement for Black lives gained a resurgence in 2020 after the police killing of George Floyd in Minneapolis. From June onward, protests against systemic racism became more momentous and prevalent than America had seen in decades.
Hi, it's Zinhle Essamuah. I'm the host of our daily news show KnowThis and a correspondent at NowThis. I've reported on and followed the Black Lives Matter movement closely since 2014, and have been with NowThis since 2017. While there's nothing new about the Black Lives Matter movement, this year was different, as the COVID-19 pandemic kept us in our homes and the world had no choice but to witness the movement for Black lives. Let's dive in.
Say their names
The 2020 killings of Breonna Taylor and George Floyd inspired worldwide protests and one of the most widespread reckonings on race in American history. Let's start with Taylor.
Who she was: a 26-year-old emergency medical technician.
What happened: Taylor was asleep in her apartment on March 13, 2020, when three Louisville police officers entered. Taylor's boyfriend, Kenneth Walker, fired at police. Walker says police did not announce themselves, and he thought someone was breaking in. Officers deny these claims. Entering the home with a "no-knock warrant," police shot and killed Taylor. Though the case didn't garner immediate attention — leading activists to point out discrepancies in news coverage of missing and murdered Black and Indigenous women of color (the non-gendered term being BIPOC) — national outrage eventually grew, with sports figures and celebs wearing "Say Her Name" apparel and magazines even putting images of Taylor on their covers.
Was anyone held accountable? No one was charged for killing Taylor. Jonathan Mattingly, Brett Hankison, and Myles Cosgrove were the officers involved, and only Hankison was indicted in her case, for the gunshots he fired into a neighboring apartment. Changes have begun in Louisville, which named a new interim police chief (sworn in in October), settled a case with Taylor's family, and passed "Breonna's Law," a measure that banned no-knock warrants.
Months after Taylor's death, George Floyd was murdered.

Who he was: a 46-year-old father and son.
What happened: Former officer Derek Chauvin pinned George Floyd to the ground and pressed his knee to Floyd's neck for more than 8 minutes as fellow officers stood by. Onlookers filmed and pleaded, and Floyd cried out for his life until he fell unconscious. Floyd later died at a Minneapolis hospital.
Was anyone held accountable: Chauvin, who was later charged with Floyd's murder, posted bail of $1 million, and was set free.
Here are some prominent names — some perhaps lesser known, but equally significant — of Black lives that were lost or damaged* due to violence this year:

Ahmaud Arbery
Jacob Blake*
Rayshard Brooks
Daniel Prude
Ronnie Long*
Tony McDade
Oluwatoyin Salau
Walter Wallace Jr.

*Ronnie Long is alive, but he had his freedom stripped from him for 44 years due to a wrongful conviction. You can petition for his pardon with the North Carolina governor's office here.

*Jacob Blake, a 29-year-old Black man, was shot and seriously injured in Kenosha, Wisconsin. The officer shot at Blake's back at least seven times when he tried to enter a vehicle. Three of Blake's sons were in the backseat of that vehicle.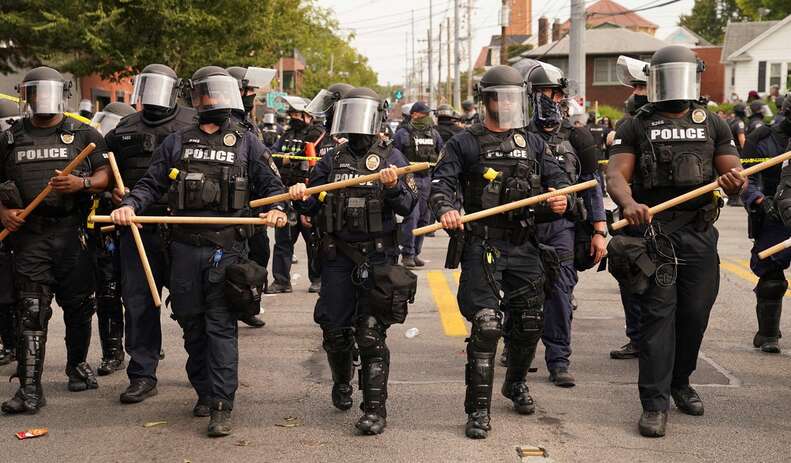 Ok, so what was all that "defund the police" talk about this year?
Defund the police is a demand from Black Lives Matter organizers to reallocate the often millions of taxpayer dollars that fund local police departments to community development, education, and mental health resources. BLM co-founder, Patrisse Cullors, broke it down: "Law enforcement is a full-on infrastructure that has always been about the hunting and the torture of Black people, and we have to change that now. And the way we do that is by calling for defunding and re-prioritizing of our needs in our cities." Has this been done before? Yes. The city of Camden, New Jersey, disbanded its police department in 2013; Eugene, Oregon, developed CAHOOTS, a community-based public safety program; and the Minneapolis City Council this month unanimously approved a 2021 budget that will reallocate nearly $8 million from the police department to community programs.(In June 2020, the Minneapolis School Board cut ties with the city's police department.) Is this issue split down party lines? It's a bit more nuanced than that. Republicans have portrayed the call to "defund the police" as a bad thing. Vice President Mike Pence falsely suggested during the 2020 campaign that President-elect Joe Biden would defund the police (Biden has not agreed to that), and said "we are not going to defund the police, not now, not ever." Meanwhile, Democrats appear split on the issue between moderates and progressives. While many moderate Democrats agree that police reform must happen, they're wary of calls by progressive Dems, such as Rep. Alexandria Ocasio-Cortez (D-NY), to defund the police, due to fears of isolating swing or moderate voters.
Defund the police was not the only BLM demand or initiative this year. Activist DeRay McKesson and Campaign Zero proposed the widely discussed and somewhat controversial Nix the Six and #8cantwait campaigns. Also, Mississippi got rid of its Jim-Crow era voting policies. Police union contracts got a hard look after many fatal police shootings prompted questions and concerns from the public. You can see our explainer on how police union contracts work and who they protect here.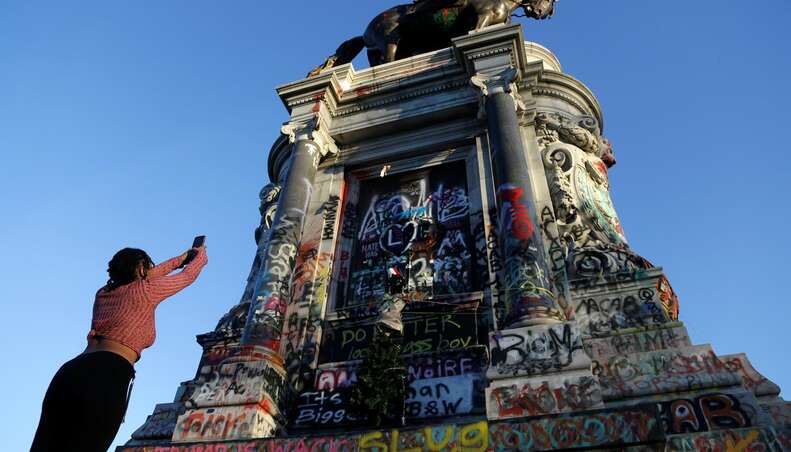 For the Culture: Companies, countries, and Confederate statues reckon with race
Ch-ch-changes. That's what companies and countries were singing this year, after international outrage sparked by the death of George Floyd prompted a worldwide examination of anti-racism efforts.
In sports, Nascar banned the display of Confederate flags from all its properties and events after the league's only Black driver, Bubba Wallace, called for its removal. The Washington D.C. football team (finally) got rid of its offensive and racist name, which activists have long protested. The world of baseball hit a home run, too, with Cleveland's baseball team changing its name, effective in 2022.

In the world of art and U.S. history, Confederate symbols and statues (like more than 130) were taken down — the first of many steps in ending the glorification of the slave-owning losers of the Civil War. Speaking of landmarks, a major D.C. street got a face-lift with the creation of Black Lives Matter Plaza following the teargassing of peaceful demonstrators protesting police violence.

In media, "Gone with the Wind" was...well...gone with the wind. Warner Media briefly pulled the film from the HBO Max streaming service, then added it back with a new intro. The intro puts the film in context, acknowledging that the movie denies the horrors of racism and romanticizes the Antebellum South.

And in consumer products, Aunt Jemima and Uncle Ben got a rebrand after decades of criticism that the brands names and logos were racist and reliant on stereotypes. Quaker Oats is still trying to find a new name for Aunt Jemima. I'd say just calling it syrup is a safe bet.
These cultural changes weren't restricted to the U.S. Though the American experience of slavery, genocide, and racism is uniquely inhumane, many countries reckoned with their own practices of anti-Blackness or overpolicing. In Nigeria and abroad, the #EndSARS movement made headlines after a video surfaced of the Special Anti-Robbery Squad allegedly shooting a civilian. BLM co-founder, Opal Tometi, spoke with me about this movement. You can also watch our explainer video here.
Black people show up for democracy…again (and a BLM activist heads to the House)
When it came to the 2020 election, Black voters turned out in record numbers. Despite Black people being historically disenfranchised and continually subjected to voter suppression (particularly in Southern states such as Georgia), they still proved key to Biden's presidential win, and worked hard to get out the vote. And Black people weren't just voters, they were candidates. Rep.-elect Cori Bush (D-MO) made history in 2020 as the first Black Congresswoman in the history of Missouri. Bush easily defeated her Republican challenger — getting nearly 85% of the vote. I spoke with Bush the day after her win, and she shared how the 2014 shooting of Michael Brown ignited her desire to serve in public office.
In one of her initial visits to Washington as a Representative-elect, Bush was called "Breonna" by her Republican colleagues while wearing a "Breonna Taylor" mask. Still, she remains undeterred. Among her policy platforms include a $15 minimum wage, the Green New Deal, and free public college. And, yes, she is considered one of the newest members of "The Squad." Tina Knowles-Lawson (yes, Beyoncé and Solange's mom) teamed up with celebs and Mothers of the Movement to call for the passage of the HEROES Act, a bill that protects voting rights and provides additional stimulus support for those hit hardest by COVID-19.
Knowledge is power
Beyond posting a black square on social media for a day (remember #BlackOutTuesday?) or recognizing Juneteenth on a wider scale, Americans appeared to realize this year that a mere hashtag or march for racial justice was not enough to turn a moment into a movement. Real learning (and un-learning) had to take place. And so began many book clubs, reading groups, newsletters, and efforts to be anti-racist in 2020. The movement was so strong, in fact, that "How to Be an Antiracist" and "White Fragility" (controversies and all) were two of the most-sold books on Amazon throughout all of 2020. Incredible online resources also gained more traction, such as Rachel Cargle's popular teachings and writings on race and Nicole Cardoza's daily anti-racism newsletter. Through all the reading is the universal goal to become anti-racist and to pursue a lifestyle of anti-racism, meaning actively fighting the systems of oppression against BIPOC.
Here is a list of books compiled by the team at NowThis that may be helpful to you on your anti-racism journey. 👀 And here's an app that helps you find small and indie bookstores, many of which have closed amid COVID-19.

It's been an eventful year, to say the least. Thanks for journeying with us. Your existence, your rest, and your pursuit of truth is resistance. Remember that in this season, and embrace joy in all its forms. If you like what you've read, keep up with me @simplyzinhle on all platforms.
This article was edited by Natalie Daher and copy edited by Luria Freeman.