260 Employees Of Georgia School District Tested Positive For COVID-19 Or Were Exposed
Teachers returned to work in-person on Wednesday and by Thursday, 260 employees were "excluded from work" due to a positive case or possible exposure.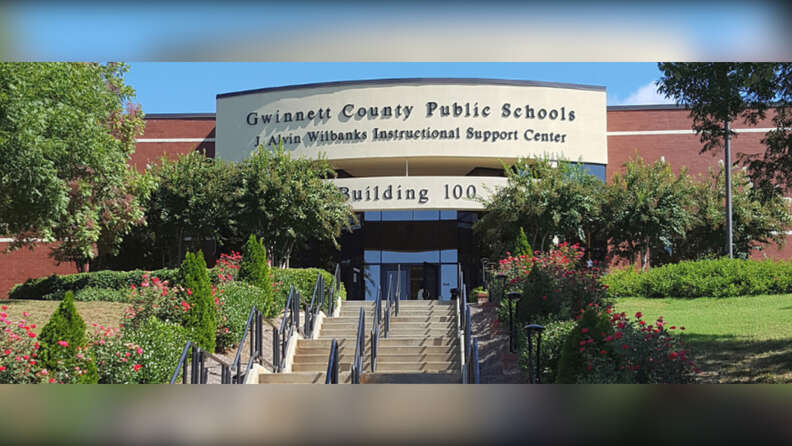 Twitter/ Gwinnett County Public Schools
Twitter/ Gwinnett County Public Schools
More than 260 employees in Georgia's largest school district have either tested positive for or been exposed to COVID-19 after beginning in-person planning for the upcoming school year.
Gwinnett County Public Schools (GCPS) spokesperson Sloan Roach told NowThis on Monday that teachers returned to work last Wednesday; by Thursday, 260 teachers were "excluded from work due to a positive case or contact with a case."
Roach also said the district learned through contact tracing that a "majority" of those reported cases are a result of "community spread."
The Atlanta-area district operates 141 schools and serves more than 180,000 students. The district's Superintendent J. Alvin Wilbanks announced last month that it will begin the school year virtually on August 12.
Gwinnett County has had a recent spike in COVID-19 in the last few weeks, reaching nearly 18,000 cases as of Monday. Georgia has reported more than 195,000 cases in total.
"Given the number of COVID cases in Gwinnett, it would be expected to see positives among our employees based on the community spread in our county," Roach told NowThis.
Parents of students at GCPS staged a protest in late July after the district announced it would be completely online for the start of the school year. Protesters demanded that the district reopen schools fully.
The discussion of reopening schools in the fall has been a contentious issue among communities and leaders including President Trump, who has threatened to withhold federal funding from schools that do not resume in-person learning. Last week, the president said during a briefing that "keeping [students] out of school and keeping work closed is causing death." He also said, "If you look at what's going on: the younger, the better. Amazing — the immune system."
Meanwhile, a study recently released by the Centers for Disease Control and Prevention Friday revealed that a Georgia camp experienced a major coronavirus outbreak this summer.
In June, 260 campers and staff members tested positive for COVID-19 at an overnight camp in Georgia. Nearly 600 people in total attended the camp. Of the 344 people who were tested, 76% had positive results. The CDC study found that 51% of those who tested positive were between 6 and 10 years old. About 44% were between 11 and 17, and 33% were 18 to 21 years old.
The rest of the country has continued to grapple with how to go about the forthcoming school year, including an Indiana middle school that had to shut down hours into its first day back. Last Thursday, Greenfield Central Junior High School reopened and within hours, several students and staff had to quarantine after a student tested positive for COVID-19, according to the New York Times.
In July, The Florida Education Association, the largest teachers union in the state, sued Gov. Ron DeSantis (R) over an emergency order directing teachers and students to physically return to schools in August.
"Gov. DeSantis needs a reality check, and we are attempting to provide one," FEA union president Fedrick Ingram said in a release announcing the suit. "The governor needs to accept the reality of the situation here in Florida, where the virus is surging out of control."