31 People Linked to White Supremacist Group Arrested in Idaho for Planning To Sabotage Pride Event
The 31 suspects were charged with criminal conspiracy to riot.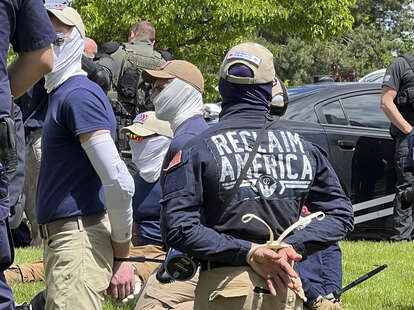 Thirty-one members of a right-wing extremist group called Patriot Front were arrested in Coeur d'Alene, Idaho, on June 11 for allegedly planning to riot at a local Pride event.
According to CNN, local authorities received a report that a large group of men with riot gear were getting into a U-Haul truck in a hotel parking lot. Coeur d'Alene Police Chief Lee White said that the group was also in possession of papers "similar to an operations plan that a police or military group would put together for an event."
The Anti-Defamation League (ADL) stated that Patriot Front is a Texas-based far-right group that operates on the belief that American land was bequeathed to them by their European predecessors, using the pretense of cultural and ethnic preservation as grounds for espousing bigoted ideology. The ADL said that the group was part of Vanguard America and split from it following the 2017 Unite the Right white supremacist rally in Charlottesville, Virginia.
The 31 suspects were charged with criminal conspiracy to riot, a misdemeanor, per CNN.
"We are deeply grateful to law enforcement agencies who were present and professionally responded," said the North Idaho Pride Alliance, which organized the event.