Paid Content For
5 Things To Know About The Impact of Health Care Inequity On Black Americans
Black women have lower life expectancies and are three times more likely to die in childbirth than white women.
Paid Content For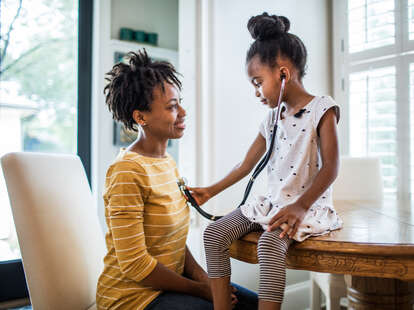 Life expectancy for Black Americans is the lowest it's been in 20 years. The maternal mortality rate for Black women is three times the rate it is for white women, and the health care inequities for Black Americans have become increasingly clear. As part of our ongoing Answer This interview series dedicated to women's health issues, we're taking a deeper look at the health crisis impacting Black women in America.
We spoke with Dr. Jaime Slaughter-Acey, Assistant Professor of Epidemiology and Community Health at the University of Minnesota's School of Public Health, about the systemic causes of these inequities — and ways to close the gap. Below are five key takeaways from our interview. You can watch the full episode of Answer This with NowThis correspondent Zinhle Essamuah and Dr. Slaughter-Acey here.

1. The health care system needsto address disparities in medical care

Overburdened staff. Outdated tech. Long waits. Health care options in underserved minority communities are notoriously inferior to those in areas with a higher white population. In fact, the American Medical Association confirmed that "racial and ethnic minorities experience a lower quality of health care—they are less likely to receive routine medical care and face higher rates of morbidity and mortality than nonminorities." And it's done by design, according to Slaughter-Acey: "The system is not broken. It was designed to work the way that it does. And that system was not designed to support the health of black women and other marginalized groups."

2. Implicit bias leads to inferior treatment

According to a 2005 study from the National Academy of Medicine, implicit bias can lead to inferior health care — and overall worse outcomes for Black patients. As the study concluded: "Most health care providers appear to have implicit bias in terms of positive attitudes toward whites and negative attitudes toward people of color."
That prejudice often leads to patients who might have the same ailment as white patients receiving different treatment as a result of their skin color. As Slaughter-Acey explained, "racism is a fundamental factor that affects healthcare."

3. Black women are more likely to die from childbirth

Although the United States is one of the wealthiest nations in the world, the maternal mortality rate for Black women is comparable to those in developing nations — specifically, nations that don't have complex health care infrastructures in place. The statistics are bleak: Black women are three times more likely to die from pregnancy and childbirth than white women.
Black mothers need access to quality health care — before they're even pregnant. As Slaughter-Acey said,"If we create a more continuous system of care that allows providers [to] care for Black women before they're pregnant, during their pregnancy and after pregnancy, then we'll be able to take care of our Black expectant women much better."

4. Black people are often excluded from the medical community

Clinical trials are crucial for determining the success of new medication or treatment, yet Black people are not widely included in trials for illnesses that disproportionately impact their community. The American Academy of Family Physicians reported that in a study to treat multiple myeloma, 20% of Americans who suffer from the disease are Black, but less than 2% of the patients included in the research were Black. The numbers are even more troubling with cancer research: Less than 5% of subjects studied are Black. "That lack of representative research impacts what we do within the healthcare setting by having research focus on issues that are not as relevant to those who are most impacted by the disparities," explained Slaughter-Acey.
And the lack of representation continues within the hospital's walls. According to the Association of American Medical Colleges, only 5% of doctors in America are Black. "We can start with increasing the number of medical students, residents, nurses in training who come from [the] black and brown community," Slaughter-Acey said.

5. Help the community by starting within the community

There are immediate ways to help underserved patients, Slaughter-Acey said. She recommended that pregnant women employ the use of a doula — a trained medical assistant — to advocate on their behalf. And if they don't use a patient navigator, who can help on their medical journey, they should "empower someone within [their] social support network to be [a] health advocate."
But ultimately, it's about changing the system — and expanding access to healthcare is a crucial part. "That can simply be [increasing] the number of providers who take women who are on Medicaid or Medicare insurance," she said, as underserved communities often don't have a choice in who they see, due to insurance restrictions. "Our solution," she said, "has to be multi-pronged."
See our first installment of Answer This here, where we explore CMV, a common virus you've probably never heard of, that can affect people of all ages, but can have long-term negative health effects for some newborn infants. We spoke to Dr. Gail Demmler-Harrison, an infectious disease doctor and professor at Texas Children's Hospital. Additional resources on CMV can be found here and here.