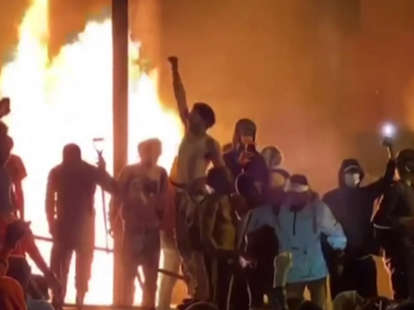 At least seven people were struck by gunfire Thursday night during a protest in Louisville, KY over the death of Breonna Taylor, officials said.
Hundreds of the protesters flooded the city's streets to demand police accountability for the death of Taylor, a 26-year-old EMT who was killed in her own home after three officers forced their way inside with a search warrant in a drug investigation.
The Louisville Metro Police Department claimed that the plainclothes officers, none of whom were wearing body cameras, announced themselves then returned gunfire when Taylor's boyfriend Kenneth Walker allegedly shot at them. However, in a wrongful death lawsuit obtained by CBS News, Taylor's mother said the officers did not identify themselves, and that once inside, proceeded to "spray gunfire into the residence with a total disregard for the value of human life."
Louisville Mayor Greg Fischer said there were several hours of peaceful protests on Thursday before "some of the crowd turned violent.". He added that five of the shooting victims were in good condition, and two were sent to surgery. Though it is not clear who fired the shots, Fischer said police officers did not fire them, the AP reported.
WFPL also reported that police fired tear gas and rubber bullets into the crowd, and several areas near the protest were damaged, including a statue of King Louis XVI outside Metro Hall.
In a Facebook post Taylor's sister, Juniyah Palmer, thanked demonstrators for their action but urged them to "not succumb to the levels that we see out of the police."
"Speak. Protest. But do not resort to violence. We demand change," she continued. "We demand reform. But we do not need for our community to get hurt."
Fischer also shared a video of Palmer early on Friday urging protesters to "stop tonight before people get hurt."
People have also been calling for bail fund donations for Louisville activists who were arrested during the protests. There are similar donation requests for protesters in Minneapolis.
Louisville is one of many demonstrations that have erupted over the last few days protesting police brutality. In Minnesota, civil unrest has intensified since it started on Tuesday over the in-custody death of George Floyd, an unarmed Black man who died after an officer knelt on his neck and choked him.