7 Rochester Cops Suspended After Footage Of Daniel Prude's Arrest Sparks Protests
The city's mayor announced the changes at a press conference on Thursday.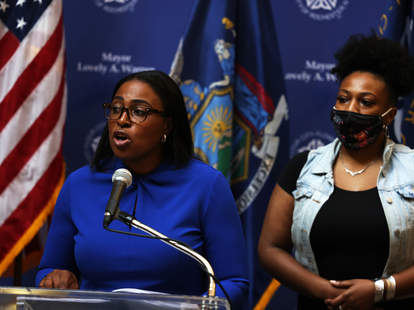 Rochester Mayor Lovely Warren announced Thursday that the officers involved in Daniel Prude's arrest will be suspended without pay. Prude died of asphyxia within a week after the arrest.
The announcement came after the City Council sent Warren a letter demanding changes to the city's law enforcement in the wake of protests on Wednesday, which followed the release of body cam footage depicting Prude's graphic arrest in March. 
"Daniel Prude was failed by our police department, our mental health care system, our society, and he was failed by me," Warren said during a press conference on Thursday. "And, for that I apologize to the Prude family and all of our community."
During the press conference, Warren joined the City Council in calling for charges against protesters who were arrested on Wednesday to be dropped. She spoke in depth about the city's policing and its needs for immediate change.
She added: "The buck stops with me, today, at City Hall. It stops and we must as a society, as a city, as a community face the truth. Institutional and structural racism led to Daniel Prude's death."
Daniel Prude's arrest: what happened before & after
According to multiple reports, Prude, 41, was arrested in March after his brother Joe called 911. Prude, who was reportedly experiencing mental health problems, was visiting his brother in Rochester from Chicago, and left his brother's house in below-freezing weather wearing only long johns and a tank top. A truck driver also called 911 on Prude, according to internal police investigations reported by the New York Times, saying a man with no clothes on was trying to break into a car and saying he had coronavirus. 
Video footage of the arrest, which was first shared by The Democrat and Chronicle of Rochester shows Prude, who had removed his clothes, lying on the ground with his hands behind his back as an officer approaches him with a Taser. Officers then handcuffed Prude and later placed a "spit hood" over his head to prevent him from spitting on them, as New York was in the early stages of the coronavirus pandemic at the time. Prude then became more agitated, according to footage, and at one point shouted, "Give me that gun. Give me that gun."
At least three officers then pushed him to the ground, video shows. One officer then placed both hands on Prude's back, while he's still hooded, and another officer placed a knee on his back. After two minutes, footage shows officers standing over Prude, who was no longer moving or speaking. One officer then called a paramedic over before The New York Times says he was put in an ambulance.
Days later on March 30, Prude died at a hospital. According to the autopsy report, Monroe County Medical Examiner Dr. Nadia Granger ruled Prude's death a homicide caused by "complications of asphyxia in the setting of physical restraint." "Excited delirium" and "acute intoxication by phencyclidine, or the drug ACP, were also listed as factors in Prude's death, according to the report obtained by Rochester First.
"I placed a phone call for my brother to get help. Not for my brother to get lynched," Joe Prude said at a news conference the family held on Wednesday to highlight the disturbing footage.
Prude's death occurred two months before George Floyd was killed in police custody, igniting nationwide protests for more police accountability. 
Johanna Silver contributed to this report.