70+ COVID-19 Cases Have Been Linked To A Spin Studio
A major outbreak has been linked to a Canadian spin studio that did not mandate patrons to wear masks during the class.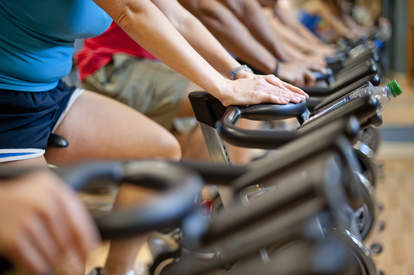 A spin studio in Canada has been linked to more than 70 cases of COVID-19 after owners followed city health guidelines of allowing riders to remove their masks during the class.
The Hamilton, Ontario-based studio called Spinco said in a statement on Instagram that the spread happened between September 28 and October 5 in various classes. As of Thursday, 45 "primary" cases including customers and staff contracted the virus, while 25 "secondary" cases emerged from people who interacted with those infected, CBC reported.
The company said it was "hesitant" to reopen in July when fitness classes were once again permitted in the area.
"As of today, everyone who has tested positive, are well. Our team, along side Public Health has notified everyone," Spinco wrote on October 10. "So while we wait and remain closed, you have our commitment, that we will not reopen until It is safe to do so, we need to show our city and the rest of our province that the SPINCO community is not going anywhere!"
Spinco customers reported that the company did temperature checks, spaced out bikes, and mandated that patrons wear masks when they weren't on the bike. However, customers were allowed to take their masks off once they were "clipped in" to the bike and class began, according to the company's website.
The City of Hamilton mandates that people must wear facial coverings when in an enclosed area, but makes exemptions for certain situations including anyone engaging in physical fitness.
Earlier this month, the U.S. Centers For Disease Control and Prevention updated its guidelines about COVID-19 spread and warned that the virus was airborne and could be spread to people who are more than six feet apart. The guidelines also pointed out that a person "breathing heavily" during activities such as exercising or singing can increase the chance of airborne spread.
Hamilton's medical officer Elizabeth Richardson said on Tuesday during a news conference that the city would have to revisit the facial covering mandate, adding: "What seems to be the case is that you need to wear that mask."
"They had done all sorts of things to remove the potential for spread," Richardson said. "Unfortunately, gyms are a higher-risk place because of the fact that generally people are taking off their masks, they're breathing at a higher rate."
Canada has maintained a relatively steady rate of infection since the COVID-19 pandemic began. As of Friday, the country reported more than 195,000 total cases and at least 9,776 deaths, according to Johns Hopkins University.