75-Year-Old Protester Targeted By Trump Conspiracy Theory Is Reportedly Suffering From Brain Injury
Longtime peace activist Martin Gugino "is starting physical therapy" after suffering a brain injury, according to his lawyer. Gugino was shoved to the ground by Buffalo police officers in a widely shared disturbing video.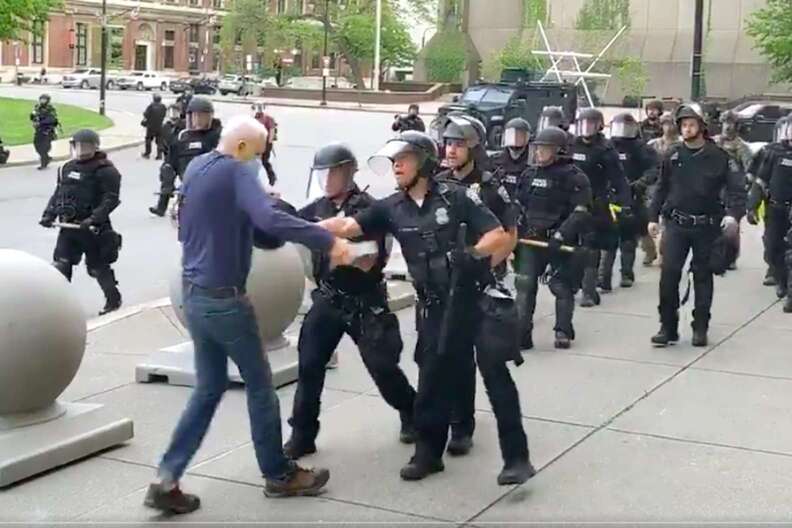 The 75-year-old protester in Buffalo, New York, who was pushed to the ground by police in an incident captured on video a week ago, is suffering from a brain injury, according to his lawyer.
Lawyer Kelly Zarcone said in a statement Thursday that Martin Gugino, a longtime activist and member of several human and civil rights organizations, "is starting physical therapy," which is "a step in the right direction."
"Martin is a soft spoken but thoughtful and principled man," Zarcone said in a statement via email, according to WNBC. "As heartbreaking as it is, his brain is injured and he is well aware of that now. He feels encouraged and uplifted by the outpouring of support which he has received from so many people all over the globe. It helps. He is looking forward to healing and determining what his 'new normal' might look like."
The widely shared, graphic video of the incident on June 4 showed officers shoving him to the ground following a protest in Buffalo's Niagara Square, causing him a serious head injury. Gugino could be seen in the video bleeding from the head while on the ground. Police initially reported that Gugino "tripped and fell" before video of the incident was released.
Gugino's lawyer, Zarcone, also refuted baseless claims from President Trump that Gugino is an "ANTIFA provocateur."
"Buffalo protester shoved by Police could be an ANTIFA provocateur," Trump tweeted on Tuesday. "75 year old Martin Gugino was pushed away after appearing to scan police communications in order to black out the equipment. @OANN I watched, he fell harder than was pushed. Was aiming scanner. Could be a set up?"
In response to the conspiratorial suggestion, Zarcone said, "Martin has always been a PEACEFUL protester because he cares about today's society. He is also a typical Western New Yorker who loves his family. No one from law enforcement has suggested otherwise so we're at a loss to understand why the president of the United States would make such a dark, dangerous and untrue accusation against him."
According to multiple reports, Gugino is involved in at least three different organizations: the Western New York Peace Center, a human rights group; PUSH Buffalo, a group dedicated to affordable housing and "economic justice"; and the Catholic Worker Movement, which describes its work as committed to social justice, inspired by the teachings of Jesus. Vicki Ross, the executive director of the Western New York Peace Center, told the AP that Gugino has also been undergoing chemotherapy for cancer.
The peace center has a specific task force called the Latin American Solidarity Committee that promotes human rights and economic justice in that part of the world, and according to executive director Ross, Gugino is also an active member of that subgroup.
"I can assure you, Martin is a peaceable person," she said to the AP. "There is no way that he was doing anything to accost or hurt. He made a judgment to stay out after the curfew because he feels that our civil liberties are so in danger, which they most certainly are."
In his tweet this week, Trump cited One America News Network, or OANN, as the source of his theory about Gugino. The far-right news outlet aired a segment making these claims about the 75-year-old without evidence. The segment was based on a speculative blog post from a site called Conservative Treehouse, which Daily Beast reporters described as "Patient Zero for a number of hoaxes that have percolated through [the] right-wing media ecosystem."
Elected officials, including Sen. Chris Murphy (D-CT), were quick to point out that the host of the conspiratorial segment on OANN also works for Russian state media, a known source of disinformation about American news and politics.
Trump was widely criticized for promoting the unfounded conspiracy theory.
Democratic presidential candidate Joe Biden also weighed in:
The two officers seen pushing Gugino in the video were suspended without pay on June 5, and on June 6, they were charged with second-degree assault. Aaron Torgalski, 39, and Robert McCabe, 32 were virtually arraigned before a city court judge and "released on their own recognizance," according to the district attorney. The officers pleaded not guilty, and are scheduled to appear in court on July 20 for a felony hearing, according to the New York Times.
If convicted, Torgalski and McCabe face a maximum of seven years in prison.
The same day the two officers were suspended, all 57 members of the Buffalo Police Department's Emergency Response Team resigned from that unit in support, according to multiple reports.