"Bumper Tables" And 7 Other Ways Restaurants Are Enforcing Social Distancing
From shower curtains to filling empty seats with mannequins—these restaurants are finding ways to keep the distance.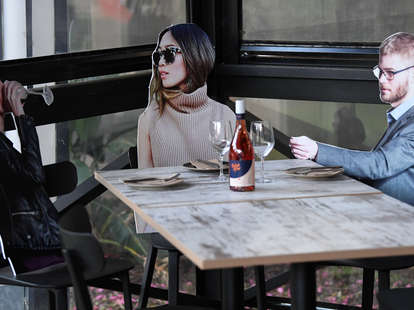 As cities and countries around the world ease coronavirus-related restrictions, reopened businesses are devising inventive ways to prevent further spread of the disease.
While restaurants and bars in some places have been given the greenlight to resume some operations, most have to abide by local government rules—like operating at limited capacity or increasing their sanitation requirements.
While it might be hard to customers to acclimate to, these restaurants have come up with their own unique ideas to keep distance between people, and keep everyone safe:

1. Inner Tubes:
Fish Tales Bar & Grill in Ocean City, Maryland is using these inner tubes shaped like vinyl records to keep their customers apart and safe.

2. Green Houses for a sit-down meal
This Amsterdam restaurant is testing out greenhouses as a way for customers to safely enjoy their meals.

3. Using cutouts of people as restaurants open with limited capacity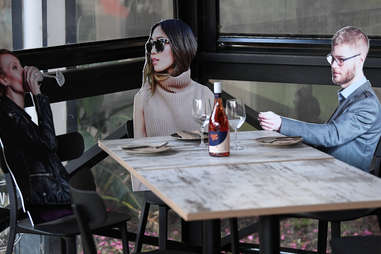 Five Dock Dining in Sydney, Australia can only accommodate 10 customers at a time and decided to use cutouts for the other seats.

4. Or using mannequins to fill the seats
The Inn at Little Washington, a restaurant in Virginia with three Michelin stars, can fill 50% of its seats with human customers. The other 50% will be filled with mannequins.

5. Pool noodle hats to keep people apart
Café Rothe in Schwerin, Germany handed out pool noodle hats for customers to remember to keep the distance.

6. Shower curtains to keep customers separate
Twisted Citrus in Canton, Ohio is trying to keep germs contained with tables separated by dividers to maintain social distance protocol.

7. "Divide and conquer" with plexiglass dividers
Dante, an upscale Cleveland, Ohio restaurant, is using plexiglass dividers between tables and bar stools to keep customers from getting too close.

8. Forget other people completely and dine by yourself
Bord för En, which translates to Table for One, serves one person a day in this Swedish field. Guests don't even have to interact with wait staff as their meals are delivered to them via basket.