TikTok Gave This 81-Year-Old Veteran a Second Act in Life
After just a month on the platform, "Patriotic Kenny" discovered the power of its community.
Advertiser Content From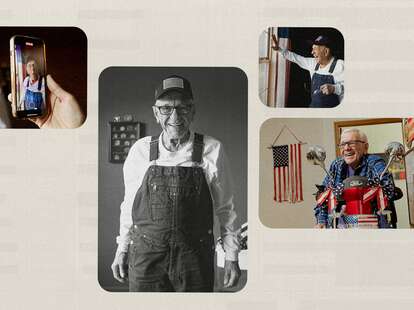 PHOTOGRAPHER: ERICA SCHROEDER; DESIGN: ALLIE PAKROSNIS
PHOTOGRAPHER: ERICA SCHROEDER; DESIGN: ALLIE PAKROSNIS
These days it seems everyone is clamoring for positive energy, good vibes, and anything to remind us of all the good happening in the world. For a lot of people on TikTok (2.6 million to be exact), they have found that joy following the life and laughs of 81-year-old Navy veteran, Kenneth "Kenny" Jary. On his TikTok channel, @patriotickenny, Jary's neighbor Amanda Kline, who runs his account, helps him connect with other veterans, the military community, and beyond, which turned into a blessing when that audience helped Jary during a time of need.
In his small town of Mahtomedi, Minnesota, Jary has been enjoying retirement for over 30 years. After being honorably discharged from the military in 1963 in San Juan, Puerto Rico, where he worked as a helicopter refueler, Jary joined his family's construction business back home. "My dad was a construction guy. So I went there and it worked out for quite a while," he said. "But I thought, 'I don't know. That's not a paycheck every week." Soon he moved on to a car plant in a neighboring town, where he happily worked for 32 years before retirement.
Jary now spends much of his time at local coffee shops, where he enjoys chatting and connecting with his neighbors and other townsfolk. He also visits a public neighborhood park that's dedicated to fallen soldiers, where he pays tribute on a regular basis. Though he has a car, he normally enjoys getting around on his red mobility scooter, which is adorned with American flags and red, white, and blue streamers on the handle bars. Due to chronic obstructive pulmonary disease (COPD) — which causes airflow blockage, making breathing more difficult — he can't walk or stand for too long, so the scooter allows him to get around town, catch up with neighbors, go to the grocery store, and live a fuller life.
Anyone who meets Jary is immediately overwhelmed by his kind heart and child-like wonder. He's an active member of his small-town community, which assists Jary whenever he needs support (though he's rarely too inclined to ask for assistance if he can help it). "They're real good here," he said. "They appreciate the people that are in the service and we have a good response in our community."
Of course, no one has helped him more than his neighbor Kline, who introduced Jary to TikTok. Kline, a full-time teacher and Jary's longtime neighbor, wanted to show more people his positive energy and figured TikTok was the platform to make that happen. "I told him, 'Here, this is TikTok,'" she said. "What do you think about putting together some videos and sharing with the world your personality and who you are?"
Jary was open to testing out the platform, and with the help of Kline and her best friend Jenny Cooper, he posted his first video in August 2021: introducing himself in American Sign Language. He was inspired to learn the language after meeting Cooper's father, Jerry, who is the same age as Jary and is deaf. "The two of them started becoming friends and hanging out. So Jary just started learning," Kline said. "The heart behind it was to show that even at an older age, you can learn sign language, you can be friends with deaf people, and you can make lifelong friends."
The first few TikTok videos were a success as people enjoyed getting to know Jary and his infectious personality. Viewers followed along as he learned about electric cars, reminisced on yesteryear with Jerry, and shared his latest ASL vocabulary. He had a modest following of a couple thousand followers, before a personal setback shifted his content in a new direction.
In September of that year, Jary's life came to an abrupt halt when he went to use his scooter and it was unexpectedly broken. Without the ability to travel freely, Jary fell into depression. "I was in a place where I was no good. I couldn't walk very far. I was just isolated in the house," he said. Kline added, "When his scooter broke and I tried contacting him, he didn't respond to any messages. So I went over there and he was just really down and out."
Because Jary is a veteran with a list of health concerns, there was a possibility to get a new scooter from Veteran Affairs, however, the scooter would be expensive, starting around $2,500. "His health was really bad, too, so that's when we decided we got to do something," Kline said.
Kline shared a TikTok of Jary on his broken scooter expressing his feelings about not being able to travel on his own. "I met some beautiful people on this scooter by traveling around to the coffee shop and Veteran's Park," he said in the minute-long video. The video was heartfelt, and immediately struck a chord with users. "People in the messages kept saying, 'Set up a GoFundMe,'" said Kline, which she did.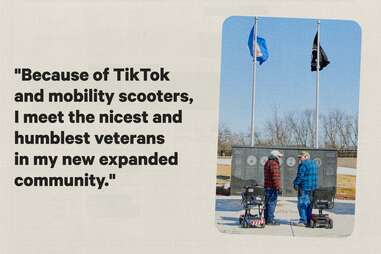 The financial support — and followers — immediately started rolling in. "Within a week or two weeks, he had a million followers," Kline recalled. (The "broken scooter" video currently has over 1.9 million views.) "First a few thousand and then two million and from there, things just went up," she added. "The support and the love and the messages have been non-stop." Though the "broken scooter" TikTok gained popularity quickly, it was the follow-up posted the next day, where Kline surprised Jary with the GoFundMe and its $5,000 milestone, that first went viral. The emotional video — in which Jary tearfully rejoices over the kindness of others — currently has over 12.8 million views and 2.6 million likes.
But that was just the beginning. A couple of days later, Kline posted another update with Jary learning that his TikTok community had donated over $45,000 to the GoFundMe. In the video, Jary bursts into tears from the news. "Forty-five thousand dollars? That's like winning the lottery!" he said through tears. What continued was a whirlwind month of supporters coming in from all over the world, wanting to learn more about Jary, his life in Minnesota, and his amazing TikTok community. "Life really changed after that point," he said. "I was getting calls at all hours of the night and emails and people contacting and wanting to do interviews and all this stuff."
With each update, Jary was overjoyed — especially when the donations reached $101,000 — but nothing compared to the following month when Kline, Jenny, and Jerry (aka "The Crew") surprised him with his new scooter decorated just like his previous one, with American flags and patriotic colors. "Amanda, this is a Cadillac!" he exclaimed in the video while sitting on the scooter hysterically crying. "I don't know how to thank the people!" Because of the donations, Jary was even able to get a second scooter that's portable and able to be put in his car when needed.
Jary grew close to many of the people who contacted him: whether in person, on his scooter, in the comments section of his videos, on recent trips to share his story, and through hundreds of letters from fans sharing their lives with him. "Wherever Jary goes, he loves to just sit and talk to people and hear their stories and ask them about their families,"Kline said. "A lot of [the letters] are just about their lives and struggles, what they're going through, and their time in the military."
Of course, Jary isn't the only veteran who likes the independence a mobility scooter provides. "The top comments that come through are, 'My somebody needs a mobility scooter. Can you help?'" Kline said. And so, Jary (with the help of The Crew), gave away 10 free, top-of-the-line scooters to veterans in need later that September, due to the ongoing community donations and receiving a large discount from the scooter manufacturer who believed in Jary's mission. "We have a deal with the company," Kline shared. "They're about $2,500 retail price, but we get [each] for about $900."
After that, Jary and Kline wanted to continue to pay it forward, but on an even grander scale. They started working on the paperwork to become a nonprofit, but found the process to be grueling and time-consuming. Thankfully, a donor from California provided a sizable donation to pay all the fees needed to get them established.
By the spring of 2022, the Patriotic Kenny Foundation was created. Kline went ahead and closed Jary's GoFundMe to open a 'Scooters For Veterans' GoFundMe to align with the nonprofit's mission: to "empower and honor veterans through mobility wellness." Kline said, "We kept it 'wellness' because it's all encompassing. It's not just the device — it's mental health, it's family support, it's independence."
With the nonprofit in place, the foundation has been able to donate over 50 scooters to veterans all over the United States. The Crew has plans to gift scooters on a quarterly basis and hosts events, including a 5K race later this year, to give the foundation and Jary's incredible story a bigger platform. On top of the foundation, Kline has helped Jary start a merchandising line and she's releasing a children's book, titled 'Kenny's Bright Red Scooter,' in November of this year.
Jary's new zest for life has improved his mental and physical health as well. "I love when people stumble upon a video of his and realize that this is 'the Kenny from back then' and people can't believe it," Kline said. "They'll be like, 'This is the same guy? He looks so healthy. You look so great!"
His growing fame is not only inspiring to his audience, but to many senior citizens who come across his story. "The mental health side of it is engaging with people, interacting, having a second light at an older age, not just sitting in his apartment, wasting away," Kline explained. She shared how Jary has even inspired the mom of one of her friends to get up and do more with her later years of life. "She told my friend, 'I really feel like I'm at that stage where I'm basically waiting to die.' And then she saw Jary and said, 'He's flying all over the place, he's doing this and that. What am I doing?' She's got this fire now."
"Because of TikTok, I got a whole new health," Jary said. He goes on to add that Kline "saved my life" after his first scooter broke down and he's excited, but mostly appreciative, of the new path she and TikTok are taking him on. "It makes me feel proud and I wanna keep doing what I'm doing for the foundation. I can connect to people, too, like with the vets. They tell me about their time in the service and about their life — all because of TikTok and mobility scooters. I meet the nicest and humblest veterans in my new expanded community. It's like another whole new family by meeting people and seeing comments from people. It's all the better."
To learn more about Kenny Jary and the Patriotic Kenny Foundation, watch his story for TikTok Sparks Good, a video series highlighting the life-changing opportunities and meaningful connections happening on TikTok.