A Domestic Violence Shelter Publicly Supported Black Lives Matter & The County Cut Its Funding
Multiple law enforcement agencies in the area also cut ties with the Wisconsin-based shelter and said they would no longer refer domestic violence victims to the shelter.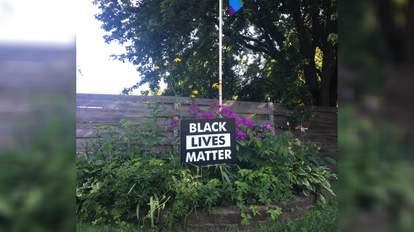 County board members in Wisconsin voted to withdraw thousands of dollars of funding from a domestic violence shelter after the organization publicly supported the Black Lives Matter movement.
Embrace, a nonprofit based in Ladysmith, WI that provides shelter and services to survivors of domestic and sexual violence, issued a statement supporting communities of color at the end of September. The organization also displayed Black Lives Matter signs on its property, according to Wisconsin Public Radio, who first reported the story.
"As an anti-violence organization, Embrace cannot end one form of violence without addressing the other, and we cannot properly serve all survivors if we do not acknowledge and address the oppression and violence the most marginalized survivors are experiencing," Embrace wrote in its statement.
Earlier this month, the Barron County Executive Committee voted to cut $25,000 in funding for Embrace in 2021. The committee also voted that Stacey Frolik, director of the county's Health and Human Services, resign from Embrace's board of directors.
Frolik told WPR that the county decisions were because of " some outward facing support for Black Lives Matter."
After the county moved to pull funding, multiple law enforcement agencies in the area severed ties with the shelter. According to local outlet DrydenWire, Washburn County Chief Deputy Nick Helstern notified the organization that five local police agencies would withdraw their partnership with Embrace and no longer refer domestic violence victims to the nonprofit.
Katie Bement, Executive Director of Embrace, told DrydenWire that the chief did not explain why the department was withdrawing its agreement, and that the agencies' decision "may cause violations of victim rights laws" in the state of Wisconsin.
"These decisions reduce victims' immediate safety options after an incident which places victims' lives in jeopardy and increases the risk of domestic violence homicide in our communities," Bement wrote. "Their decisions create additional barriers in our communities that will cause victims to not know help and safety exists."
Chief Helstern released another statement to DrydenWire claiming there were no violations of state laws, adding: "Embrace has proven that the agenda is no longer about victims of domestic violence and sexual assault. Perhaps that is why so many are distancing themselves from the organization."
Barron County Sheriff Chris Fitzgerald also resigned from the Embrace board after seeing Black Lives Matter signs on their building, according to WPR.
"We were some big supporters of Embrace and we felt that they were not supporting law enforcement and taking the side of some of the anti-law enforcement out there," Fitzgerald told WPR.
Communities of color are disproportionately affected by domestic violence, according to the National Resource Center On Domestic Violence. Nearly 45% of Black women in the U.S. have experienced contact sexual violence, physical violence, or stalking by an intimate partner.
During the COVID-19 pandemic, the rate of domestic violence reports and homicides have increased worldwide, as more partners and families were forced to stay inside together for longer periods of time.
Embrace team members started a GoFundMe on October 14, writing in the page's description that the organization lost funding annually. In just a few days, the nonprofit raised more than $90,000.
"We are completely overwhelmed by the outpouring of support we have received from each of you," Embrace organizers wrote on GoFundMe. "We deeply appreciate all the support we're receiving locally, statewide, and nationally – including those who are reaching out privately with messages and donations of support, but who don't feel safe publicly supporting us due to fear of repercussions from local law enforcement and community backlash in a small community."