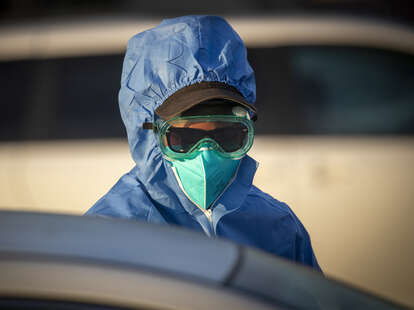 A health care worker wearing personal protective equipment hands out COVID-19 tests to a long lines of subjects who self-administer the tests at dusk at Long Beach City College-Veterans Memorial Stadium on Wednesday, Dec. 9, 2020 in Long Beach, CA.
A new variant of COVID-19 that scientists warn may spread more rapidly has now been reported in the U.S., with cases confirmed in Colorado and California, and potentially more to come.
The variant has been spreading rapidly around the UK since emerging in September, prompting stringent lockdown orders in parts of the nation to try to contain it.
Colorado Gov. Jared Polis announced on Tuesday that the virus variant had been detected in a man in his 20s who is currently in isolation in Elbert County, which is southeast of Denver, and who has no travel history.
The Associated Press reported on Wednesday, citing the state epidemiologist, that the man is a member of the Colorado National Guard. The AP and CNN also reported on Wednesday that a second person is suspected to have the variant and is also isolating.
California Gov. Gavin Newsom said Wednesday afternoon during a virtual press conference that the new variant "has been identified" in Southern California, but he did not specify how many cases.
"There is a lot we don't know about this new COVID-19 variant, but scientists in the United Kingdom are warning the world that it is significantly more contagious. The health and safety of Coloradans is our top priority and we will closely monitor this case, as well as all COVID-19 indicators, very closely. We are working to prevent spread and contain the virus at all levels," Polis said in the Tuesday announcement.
The Colorado man's lack of travel history has prompted speculation that the variant was already present in the U.S., independent of the UK cases, and that other cases will soon be reported. In a statement to multiple outlets, the Centers for Disease Control and Prevention (CDC) said that it expects "there will be additional cases that are likely to be detected in the coming days."
The CDC website states that the variant has already been found in several countries around the world and that it "seems to spread more easily and quickly than other variants." The CDC added that "there is no evidence that these variants cause more severe illness or increased risk of death."
According to a report by the Washington Post, health officials have said since last week that the variant was likely already in the U.S.
"I'm not surprised," Dr. Anthony Fauci, director of the National Institute of Allergy and Infectious Diseases, told The Post. "I think we have to keep an eye on it, and we have to take it seriously. We obviously take any kind of mutation that might have a functional significance seriously. But I don't think we know enough about it to make any definitive statements, except to follow it carefully and study it carefully."
Fauci told Newsom during the Wednesday conference that California's confirmation "is something that's expected."
Health authorities have expressed concern over the mutation but also aren't surprised by it, and have also said there is no evidence yet that the variant, known as B.1.1.7, impacts the efficacy of the recently approved COVID-19 vaccines.