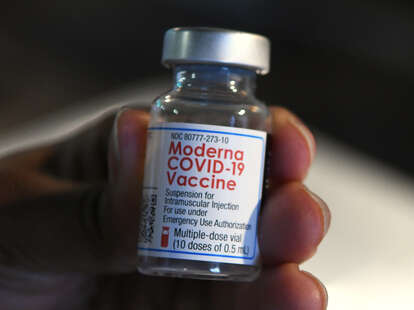 A now-former employee at a Wisconsin medical center forced 500 doses of a COVID-19 vaccine to get thrown out after intentionally removing dozens of vials from refrigeration.
The Aurora Medical Center in Grafton, WI had initially thought that 57 vials of the recently-approved Moderna vaccine, which must be kept between 36 and 46 degrees Fahrenheit, were accidentally left out unrefrigerated on December 26.
However, Aurora officials then announced on Wednesday that the person responsible had "intentionally" removed those vials from refrigeration, which resulted in around 500 individual doses having to be discarded.
"We are more than disappointed that this individual's actions will result in a delay of more than 500 people receiving their vaccine," the hospital system said in the announcement, adding that the unnamed individual "is no longer employed by us."
According to a report by the Washington Post, citing Grafton police, the FBI and the Food and Drug Administration are investigating the incident.
As of Wednesday the state has reported more than 477,000 COVID-19 cases. According to state data last updated on Tuesday, just over 47,000 vaccines have been administered in Wisconsin thus far.
The Trump administration's vaccine distribution efforts as part of Operation Warp Speed has recently been criticized by President-elect Joe Biden (and fellow Americans) for being slower than needed.
"As I long feared and warned, the effort to distribute and administer the vaccine is not progressing as it should," Biden said, while also promising to accelerate the process once he takes office.