A Ton Of People Are Vacationing In Mexico During The Pandemic, And People Are Mad About It
American tourists have been flocking to popular vacation spots in Mexico over the last two months, and local officials are reporting surges in cases in the country.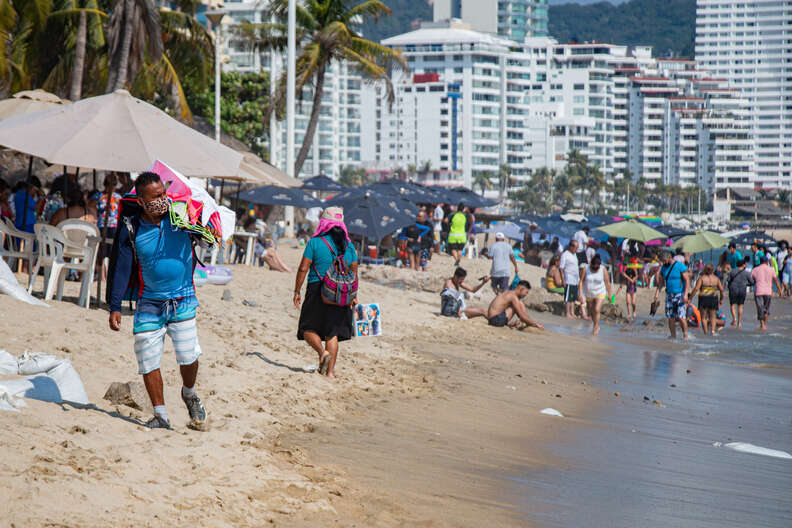 In the wake of U.S. tourists flocking to Mexico for vacation in recent weeks, the country is establishing new restrictions to discourage visitors as COVID-19 cases surge.
According to a report by The Washington Post, about 100 daily flights from the U.S. land in the Mexican state Quintana Roo — where popular tourist destinations Cancun and Tulum are located. Another area that has been slammed with tourists is Puerto Vallarta in the state of Jalisco, leading local officials to introduce partial lockdown measures at the end of December. Local reports said the restrictions are meant to discourage international travelers.
Jalisco Gov. Enrique Alfaro tweeted on Sunday that hospital occupancy in the state increased from 34% to more than 40% this week compared to last week. He also said the COVID-19 positivity rate has increased to 46.5%. Alfaro attributed the increase in cases and hospitalizations to December parties.
"Unfortunately, the December parties will continue to be reflected in infections, we hope that the measures we take to reduce mobility at night and on the weekends, until January 10, will help us reverse the trend, cut chains of infections and save lives," Alfaro tweeted.
According to Johns Hopkins University, Mexico has the fourth-highest rate of COVID-19 deaths in the world. The country has reported more than 1.4 million cases of the virus since the pandemic began.
Americans are taking advantage of Mexico's open border (unlike the European Union, which has shut its borders to visitors from many countries including America) and the opportunity to use a six-month travel visa, according to the New York Times. The report also said more than 500,000 people traveled to Mexico in November, and nearly 50,000 of those travelers flew into Mexico City — the country's current epicenter. As of Monday, Johns Hopkins reports that Mexico City has more than 337,000 cases and at least 17,000 deaths.
A study published last month by Mexico City's Center for Research and Teaching in Economics (CIDE) and Stanford University predicted that demand for hospital beds in Mexico City will increase by 50% in January.
In December, the Centers for Disease Control issued a travel advisory encouraging Americans to stop traveling to Mexico due to the surging spread of COVID-19.
Despite the surging cases in the U.S., Mexico, and in several other countries, Americans have still flocked to the tourist destination. A California-based promoter, Jeffrey Sanker, held New Years events in Puerto Vallarta over the weekend with his company White Party Entertainment, ignoring local restrictions. An Instagram account called "GaysoverCOVID" exposed the weekend of events by posting the private invite. The event description asked partygoers not to take photos or video and to keep the event information secret.
On Friday morning, one of Sanker's Puerto Vallarta events was a party boat with a DJ and open bar. The boat sank with 55 tourists on-board, and two crew members, according to Vallarta Daily. Everyone on board was brought safely back to the beach and no injuries were reported.
Several people are condemning vacationers who are ignoring the ongoing pandemic, which has infected more than 85 million people worldwide, including at least 1.8 million deaths. Celebrities like Dua Lipa and Scott Disick were also spotted on vacation in Mexico over the weekend.