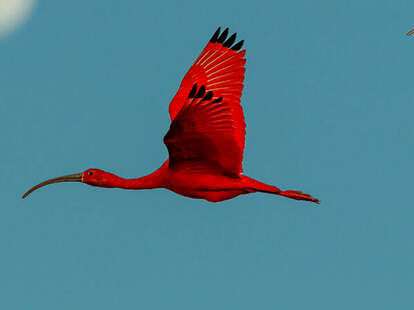 Wildlife photojournalist Tim Laman has devoted three decades to documenting a diverse array of birds with his camera.
One of Laman's most notable achievements is becoming the first to photograph every known bird of paradise species in the wild. The feat took him 544 days over 18 trips to New Guinea, taking almost 40,000 photos.
Birds of paradise are small- to medium-sized birds that are are typically found in eastern Indonesia, Papua New Guinea, and eastern Australia. There are currently 45 known species of birds of paradise, though there were only 39 when Laman set out on his mission to document them all.
In his new photo book, "Bird Planet," Laman shares some of his most incredible photos of birds from across the globe.
"When you freeze the moment of a bird in flight, taking off, or in a [mating] display, you capture a moment in time," Laman said.
While he has captured plenty of photos of rare birds, Laman wants to encourage people to find beauty in the more common birds. In addition to the rarer species, "Bird Planet" contains photographs of blue jays and woodpeckers from his backyard in Lexington, Massachusetts.
"[Birds are] one of the most charismatic and readily-observed types of wildlife, that people can see whether in the city or the country," Laman said. "Getting people to appreciate and pay attention more is one of my goals."