Disney Heiress: "What The Actual F***???" After Company Furloughs 100K Workers
Abigail Disney fired off a 25-thread tweetstorm after the Financial Times reported Walt Disney the company was still offering executive bonuses.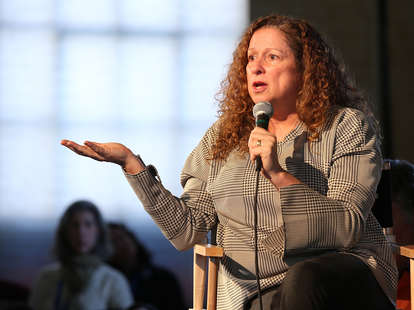 Abigail Disney railed against the Walt Disney Company this week over its plan to furlough 100,000 workers during the coronavirus outbreak.
The Disney heiress cited a Financial Times article published Tuesday that reported Disney had been offering executive bonus packages, which in recent years had amounted to as much as $1.5 billion, while placing half of its workforce on unpaid leave. Disney, 60, is the granddaughter of Walt Disney's late brother and co-founder, Roy Disney.
The news came amid wider economic turmoil that has left millions of Americans unemployed because of the COVID-19 outbreak that has killed more than 47,000 people in the U.S.
The Financial Times report cited by Abigail Disney claimed that the company was still paying dividends to shareholders while suspending workers' pay. (The newspaper later clarified that the Disney board has yet to declare a dividend for 2020.) The report also said that suspending theme and hotel workers' pay could save the company up to $500 million a month.
In her tweets, the outspoken heiress, who is a documentary filmmaker and does not have a role at the company, ripped into the decision to furlough workers, as the company's parks have been closed since last month. She called on executives to give up some of their "already ample compensation" and wrote that $1.5 billion in bonuses could "pay for three months [sic] salary to front line workers. And its [sic] going to people who have already been collecting egregious bonuses for years."
"If even a whiff of this is sincere, none of this compensation bullshit is possible," Disney wrote. "THIS COMPANY MUST DO BETTER. Disney faces a rough couple of years, to be sure. The challenges are existential, even. But that does not constitute permission to continue pillaging and rampaging by management. In fact, if a bonus reflects performance, we might want to claw."

Top execs at Disney, including new CEO Bob Chapek and former CEO Bob Iger, announced last month that they would be taking pay cuts for the year amid the pandemic (Chapek's base salary is $2.5 million, but Iger made $47.5 million in 2019, according to CNBC). Abigail Disney noted that the executive cuts amounted to a substantially smaller financial loss compared to that of workers of lower wages, who in 2018 fought for and won a $15 hourly wage. She also flagged that the majority of executives' annual pay does not come from their salaries.
"Call attention to the fact that they were giving up a portion of their salaries for the year. I told people to wait until we heard about the rest of the compensation package, since salary is a drop in the bucket to these guys. The real payday is in the rest of the package," she tweeted. "By design because it is taxed differently. Shareholders have twice voted to rebuff the outrageous pay, so it's not just that common decency is being flouted here. [It's] the will of their allegedly all-important 'owners.' Iger's comp will still be 900 times median wage."
When reached by phone, a Disney Company spokesperson accused NowThis of only pursuing the story because it's about Abigail Disney. The company did not provide additional comment.
"I don't have a role at the company, which is fine with me. I'm just a citizen who cares and I think that makes me free to say what I believe. But I am an heir. And I do carry this name with me everywhere," Disney wrote. "And I have a conscience which makes it very difficult for me to sit by when I see abuses taking place with that name attached to them. This isn't all that hard. This isn't all that complicated. Just give up SOME of your already ample compensation, especially this year. Give up, god forbid two or three basis points on the annual return."