Actor Laverne Cox Opens Up About Transphobic Attack
"It's not safe in the world … It's not safe if you're a trans person."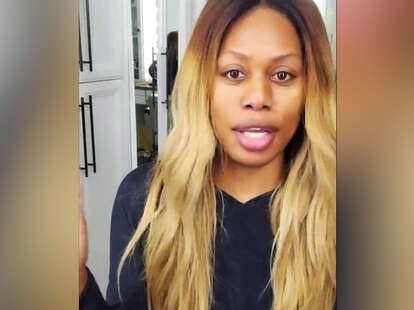 Actor and activist Laverne Cox opened up about an incident over the weekend in which she and a friend were assaulted in an apparent transphobic attack.
In an Instagram Live session Saturday, the actor told viewers that she and a friend were on a socially distanced walk in Los Angeles' Griffith Park when they passed a stranger who "very aggressively asked for the time."
"The guy who asked for the time says to my friend, 'Guy or girl?' My friend says, 'F*ck off.' I'm walking — I'm hearing all this happening in a split second — and then all of a sudden, the guy is attacking my friend," Cox explained.
The actor then said she pulled out her phone to call 911 but that "all of the sudden it's over and the guy is gone."
Cox then said in the video that she has "a long history of street harassment," and that "It's not safe in the world … It's not safe if you're a trans person."
"It doesn't matter who you are. You can be Laverne Cox, whatever that means. If you're trans, you're going to experience stuff like this," she said.
She also said that it is important to remind herself that she is not at fault in discriminatory situations.
"It's not your fault that there are people who are not cool with you existing in the world," Cox said. "We have a right to walk in the park."
Following her Instagram live, other celebrities offered sympathy and support in the comments, including Tess Holiday, Kerry Washingron, and Niecy Nash.
Cox is a fierce LGBTQ+ activist, who has advocated for transgender individuals to be included in reproductive rights conversations, implored young people to vote for what they believe in, and called attention to critical Supreme Court cases about LGBTQ+ discrimination.