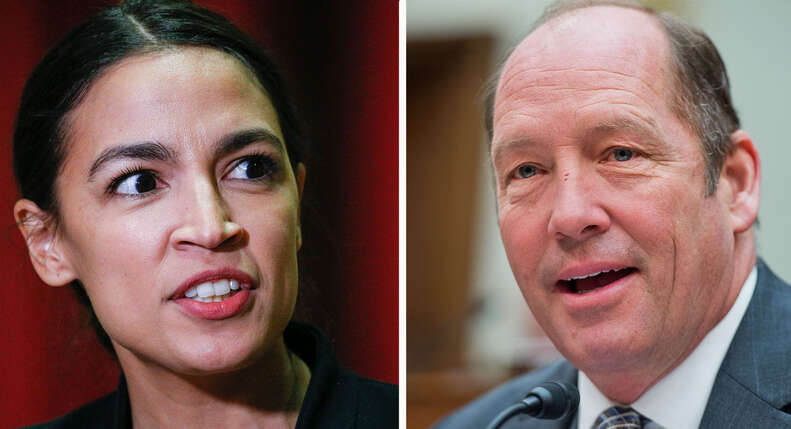 Getty Images / Rep. Alexandria Ocasio-Cortez and Rep. Ted Yoho
After reportedly accosting Rep. Alexandria Ocasio-Cortez (D-NY) on the Capitol steps Monday, calling her "disgusting" and a "f*cking b*tch," Rep. Ted Yoho (R-FL) offered an "apology" of sorts on the House floor Wednesday—though many are observing that it falls short of taking responsibility.
According to a report by The Hill, Rep. Ted Yoho (R-FL) was coming down the steps on the east side of the Capitol on Monday as Ocasio-Cortez was coming up. Then, in an exchange overheard by a reporter, Yoho began to berate her, saying she was "out of your freaking mind" and "disgusting" because she suggested "that poverty and unemployment are driving a spike in crime in New York City during the coronavirus pandemic."
Ocasio-Cortez then responded that Yoho was being "rude," and as the two parted ways, Yoho joined Rep. Roger Williams (R-TX) and called Ocasio-Cortez a "f*cking b*tch."
On the House floor Wednesday morning, Rep. Yoho delivered a sort-of apology for the confrontation—though many analysts and writers are pointing out it wasn't exactly a heartfelt expression of regret.
"I rise to apologize for the abrupt manner of the conversation I had with my colleague from New York. It is true that we disagree on policies and visions for America, but that does not mean we should be disrespectful," Rep. Yoho said. "Having been married for 45 years with two daughters, I'm very cognizant of my language. The offensive name calling, words attributed to me by the press were never spoken to my colleagues and if they were construed that way, I apologize for their misunderstanding."
AOC, who corroborated the report on Tuesday, called out Yoho's subpar apology on Twitter.
"I will not teach my nieces and young people watching that this [is] an apology, and what they should learn to accept," she wrote. "Yoho is refusing responsibility."
The Hill's report said that Yoho's insults were in regards to comments Ocasio-Cortez had made earlier in the month about an increase in New York City crime, during a virtual town hall with the mothers of Eric Garner and Ramarley Graham, who were both killed by New York police officers.
"Crime is a symptom of a diseased society, which neglects its marginalized people," AOC said. "Policing can be a Band-Aid … but is not the solution to crime."
Rep. Williams claimed in the report that he wasn't paying attention to the altercation when it occurred.
"I was actually thinking, as I was walking down the stairs, I was thinking about some issues I've got in my district that need to get done," he said. "I don't know what their topic was. There's always a topic, isn't there?"
But in a Tuesday tweet addressing the situation, Ocasio-Cortez said that Williams was lying.
"What's wild to me @RogerWilliamsTX is why would you blatantly lie to a reporter who saw this exchange?" she said. "You were yelling at me too, about 'throwing urine.'"

In another tweet, Ocasio-Cortez said, "I never spoke to Rep. Yoho before he decided to accost me on the steps of the nation's Capitol yesterday. Believe it or not, I usually get along fine w/ my GOP colleagues. We know how to check our legislative sparring at the committee door."
She also added: "But hey, 'b*tches' get stuff done."
AOC also posted a short video of herself outside the Capitol steps with Doja Cat's "Boss B*tch" playing on her Instagram stories Tuesday after the story broke.
Ever since taking office, Ocasio-Cortez has been dynamic and outspoken in her advocacy and policy pushes, which has rattled both her GOP colleagues and the conservative press.
"Obviously, I'm no stranger to this," she told the Hill, but added, "In all these intense news cycles, I have never, ever been treated that way by another member before,"
"I'm frankly quite taken aback," she continued.
Rep. Yoho is not seeking re-election in 2020. The Republican primary to see which candidate will succeed him and run to represent Florida's 3rd congressional district is on August 18.
Correction: This article has been updated to accurately quote Rep. Alexandria Ocasio-Cortez on her statement regarding crime in New York and policing .