Ahmaud Arbery: What To Know About Shooting And Death Of The Georgia Jogger
A graphic video released on Tuesday of Arbery's shooting has incited calls for justice and an investigation into the incident.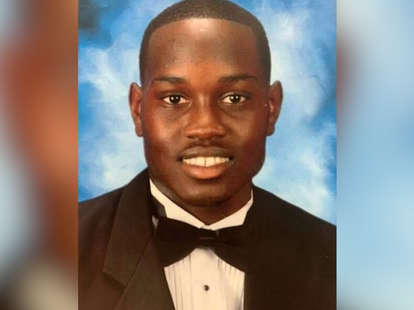 People are demanding justice for Ahmaud Arbery, an unarmed Black man who was shot and killed while jogging in Brunswick, Georgia earlier this year.
Arbery, 25, was jogging on February 23, when a former police officer and his son allegedly chased him down, shot, and killed him. No one has been arrested or charged in connection to Arbery's death.
Graphic video footage of the incident, allegedly taken of the incident by a bystander, was shared Tuesday on Twitter by activist Shaun King and went viral. The footage, taken in a vehicle being driven behind Arbery, shows him being shot multiple times.
District attorney Tom Durden, who was assigned to the case by the state's attorney general, said on Tuesday that a grand jury should decide to file charges, according to The Brunswick News.
An incident report from the Glynn County Police Department, obtained by the New York Times, identifies Gregory McMichael, 64, and his son, Travis McMichael, 34, as the men who allegedly pursued Arbery. Police said the men told them that Arbery looked like a suspect involved in a string of local burglaries and that they armed themselves and got into a truck to pursue him.
Wanda Cooper, Arbery's mother, told CNN Sunday that when police first notified her about her son, they said that he was involved in a burglary and that there was a struggle between him and the homeowner and over a gun.
"He was not armed," Cooper said, adding that she never worried about him jogging because he wasn't bothering anyone.
Arbery's father Marcus Arbery Sr., Cooper, and their attorneys Ben Crump and S. Lee Merritt, said at a video press conference Wednesday that Gregory and Travis, along with William Bryan, who allegedly recorded the video, should all be arrested.
"If my son killed the McMichael's son, he would have been arrested on the spot," Marcus Arbery said, according to ABC news.
Merritt also told MSNBC on Tuesday that the McMichaels haven't been indicted because they are white and have strong law enforcement ties.
Two prosecutors in Brunswick and Waycross Counties initially assigned to oversee Arbery's case had to recuse themselves due to prior professional connections to Gregory McMichael, according to a report by TIME.
One of the prosecutors, George E. Barnhill, told police that the McMichaels were acting in accordance with Georgia's self-defense and citizen arrest statutes, before recusing himself because his son had previously worked with Gregory McMichael. Brunswick Judicial Circuit District Attorney Jackie Johnson also recused herself because of prior professional connection with Gregory McMichael, according to the Associated Press.
Advocacy groups, public figures, and politicians have echoed Arbery's family's calls for justice and an investigation into the incident.
Former Vice President and presumptive Democratic presidential nominee Joe Biden tweeted on Tuesday that Arbery was "killed in cold blood," and called for a "transparent investigation into his murder." Former Georgia Democratic gubernatorial candidate Stacey Abrams also demanded justice for Arbery and his family on Wednesday, saying, "Any nation that allows justice to serve and meted out by vigilantes and not holding those people accountable is not a just system."
NBA player Lebron James condemned the incident in a Tuesday tweet, saying "We're literally hunted EVERYDAY/EVERYTIME we step foot outside the comfort of our homes!"
The NAACP also issued a statement regarding Arbery's murder, saying "The modern-day lynching of Mr. Arbery is yet another reminder of the vile and wicked racism that persists in parts of our country."
Arbery's high school football coach Jason Vaughn is also calling on people to gather virtually Friday, which would have been Arbery's 26th birthday, and going for a run of 2.23 miles, representing the date of his death. Vaughn is also asking for runners to document their run and post it to social media under the hashtag #IRunWithMaud. On Tuesday, community members also marched, with some holding a sign that said "I Run With Maud," in the Brunswick neighborhood where Arbery was killed.
A trial in the case likely wouldn't be launched until after June 12 at the earliest, as Georgia's jury trials are suspended until then due to the coronavirus pandemic.
Correction: This article has been updated to accurately identify William Bryan, who allegedly recorded the video.