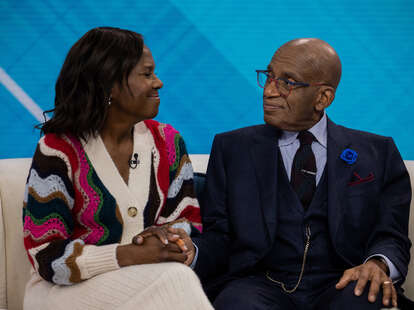 Credit: Nathan Congleton/NBC via Getty Images
After nearly 2 months off the air, Al Roker returned to the "Today" show this morning. The beloved weatherman and anchor made his first in-studio appearance since November 4 and was met with cheers, laughter, and a few tears.
The 68-year-old basked in the love but was also able to maintain his humor. "I have missed you guys so very much," he remarked. "You are my second family, and it's just great to be back — and wearing pants! It's so much fun."
In the past few months, Roker was admitted to the hospital twice in connection to a range of medical issues, including blood clots in his leg and lungs. "Look, I had 2 complicating things," he explained. "I had blood clots, which they think came up after I had COVID in September, and then I had this internal bleeding going on; I lost half my blood. They were trying to figure out where it was. And finally, they went in, did the surgery, and it ended up [being] 2 bleeding ulcers. [They] had to resection the colon, take out my gallbladder, redo my duodenum ... I went in for 1 surgery, got 4 free."
Roker was joined by his wife Deborah Roberts, an ABC journalist, during the broadcast. "He is a living, breathing miracle, and I'm not overstating it, I think," she said. "Al was a very, very, very sick man, and I think most people did not know that. You all had a chance to know that. And Savannah's tearing up, I'm going to be tearing up, but how 2 doctors led this brilliant team — it was a team — who had to figure out what was happening. He was a medical mystery for a couple of weeks, and it was the must tumultuous, frightening journey we have been on."
Roker's co-anchors gushed over his return. "You've always been an inspiration, even more now," Savannah Guthrie told Roker. "I'll never forget, Deborah, [in] one of those early texts, you said, 'I've never loved him more.' I think we all echo that. Al, we have never loved you more and been more grateful to have you by our side."
Roker, who became the weather anchor at "Today" in 1996, has not been shy when it comes to sharing his medical experiences with the public. 2 years ago, he announced a prostate cancer diagnosis. He also had surgeries on his back, hip, and knees. Additionally, he famously underwent gastric bypass surgery early in his "Today" tenure, losing more than 100 pounds from his then-340-lb frame.