Alex Trebek's Family Donates His Wardrobe To Program That Helps People Experiencing Homelessness
The donation will go toward a New York City-based program that helps men with a history of experiencing homlessness, incarceration, or unemployment, rehabilitate and find work.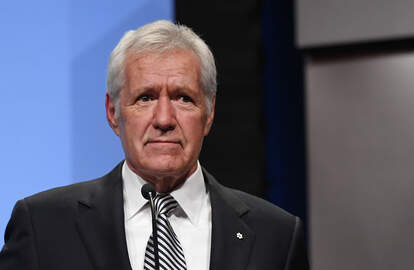 Alex Trebek's family and "Jeopardy!" have donated a large portion of the late game show host's wardrobe to a nonprofit that helps people experiencing homelessness and formerly incarcerated people.
"Jeopardy!" announced in a statement Tuesday that Trebek's family was donating to New York City-based nonprofit The Doe Fund as part of its Ready, Willing & Able program. The donation included 14 suits, 58 dress shirts, and 300 neckties, along with sport coats, sweaters, dress shoes, belts, parkas, and dress slacks, according to "Jeopardy!"
"We are so thankful for this generous donation! This support is so crucial to the men we serve, who we provide the career training and work experience to find steady employment but are too often in need of professional attire. A huge thank you to the Trebek family!" The Doe Fund wrote on Twitter.
The Ready, Willing & Able program helps men with a history of experiencing homelessness, incarceration, or unemployment find work through a 12-month residential program. The program provides paid work as well as career training, education, sobriety support, and other services.
According to Julie Androshick, an executive at The Doe Fund, Trebek's son Matthew Trebek has been involved with the organization and is one of the "most committed supporters."
Alex Trebek was known to be charitable throughout his prolific, nearly three decade career as host of "Jeopardy!" He and his wife Jean Trebek started The Trebek Family Foundation in 2011 and donated to several causes including cancer research and the arts.
Trebek died at 80 last November, more than a year after he was diagnosed with stage IV pancreatic cancer.