Alleged Mafia Member Gets Caught Thanks To His YouTube Cooking Channel
Marc Feren Claude Biart was discovered in hiding in the Dominican Republic after authorities discovered his YouTube videos.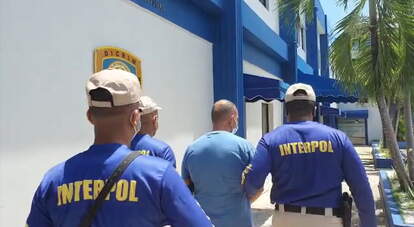 An alleged Italian mafia outlaw was arrested after officials discovered his whereabouts through his cooking channel on YouTube.
Marc Feren Claude Biart, 53, was arrested in the Dominican Republic last week and extradited to Milan, Italy, according to The International Criminal Police Organization (Interpol). Biart had been living in the Dominican Republic for several years after fleeing from Italy and originally going to Costa Rica, multiple outlets reported. Biart is allegedly a member of the powerful 'Ndrangheta mafia in Italy, and BBC reported that he has been in hiding since 2014 when he was accused of trafficking cocaine from Italy to the Netherlands.
While living in Boca Chica, Dominican Republic, Biart started a YouTube channel about Italian cooking with his wife. Biart never showed his face in the videos, but according to official reports, authorities recognized his tattoos.
"The love for Italian cuisine allowed [police] to follow his traces on the web and social networks, while the love for tattoos [allowed police] to recognize the fugitive as that cook," police said in a statement obtained by CNN.
According to Interpol, the 'Ndrangheta mafia is the "only Italian mafia organization present on every world continent." The organization started an initiative in 2020 called "I-CAN" that works to raise awareness about the threat of the 'Ndrangheta globally and coordinate a takedown of the crime system.
"Driven by power and influence, the 'Ndrangheta is involved in a wide range of criminal activities, from drug trafficking and money laundering to extortion and the rigging of public contracts," Interpol wrote.
According to the BBC, 355 alleged mafia members are on trial in connection to the 'Ndrangheta, with charges ranging from money laundering to drug trafficking and murder.